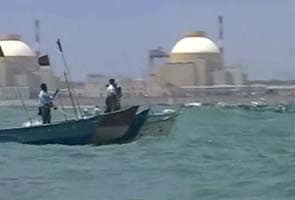 Chennai:
Around six hundred boats with four thousand fishermen waving black flags dotted the sea behind the Kudankulam nuclear plant in Tamil Nadu, marking the second anniversary of the Fukushima nuclear disaster in Japan.
The People's Movement against Nuclear Energy, which is spearheading the protests, wants the nuclear plant to be converted into a model plant for renewable energy.
The local population, mostly fishermen continue to allege that the 14000 crore project is fundamentally unsafe and they fear it will destroy fish in the sea, affecting their livelihood. Suresh Kumar, a local fisherman told NDTV, "We know only fishing, where would my family go when gun trotting security personnel forbid us from fishing here? The discharge from the plant and its radiation would affect the health of our families, particularly little children".
The Fukushima disaster that led to the eviction of around three lakh people in Japan triggered fresh fears among local people who have been fighting against the plant since the 80s. But two government appointed committees have found the plant to be safe and public fears unfounded. The Supreme Court that's hearing a petition against the plant has refused to stay the project.
The face of the anti-nuclear campaign Mr P Udhayakumar told NDTV, "We believe in our judicial system and we don't know why the Supreme Court is not delivering the judgement in this case. Nevertheless we would soon evolve a strategy. Elections are coming up and we would decide how to use our mandate as citizens".
"There are several unanswered questions. Even a couple of days ago a man died in the plant. Why are they spending 4000 crore more now? What are the real reasons for the delay in commissioning the plant?" He added.
The continuing protests have delayed the commissioning of the plant by over a year.
Many say so far not a single Minister, MP or senior bureaucrats have visited us to understand our concerns. One housewife Shanthi told NDTV, "Aren't we citizens of this country? Why's the government treating us like terrorists? Let them have the plant in their backyard, we don't want this and we wouldn't allow it to be commissioned".