Swachh Hygiene Index: Know How Clean Your City Is
Updated: April 20, 2017 15:49 IST
Two and a half years since the launch of Swachh Bharat Mission, India's sanitation coverage has risen to 60.53 per cent from 44.72 per cent in 2014. From building toilets to educating people about cleanliness, waste management and hygiene, the Swachh Bharat Abhiyan covers a wide spectrum. To monitor the progress made, Hygiene Index a tool to evaluate performances of cities in water, sanitation and hygiene (WASH) sectors and rates each city and area covered on a scale of 5has been developed by the Reckitt Benckiser, United States Agency for International Development (USAID) and EY. The hygiene index ranked the cities based on data collected by the primary source - civic bodies of respective and cities and the secondary data is configured from reports and investments in hygiene sectors linked to various CSR activities. In the first phase of Hygiene Index 10 cities - Ahmedabad, Allahabad, Bhopal, Gandhinagar, Nagpur, New Delhi Municipal Council (NDMC), Pune, Raipur, Udaipur and Varanasi were evaluated based on their efforts towards solid waste management, sewerage treatment, providing access to toilets, making drinking water accessible, health and behavioural change communication.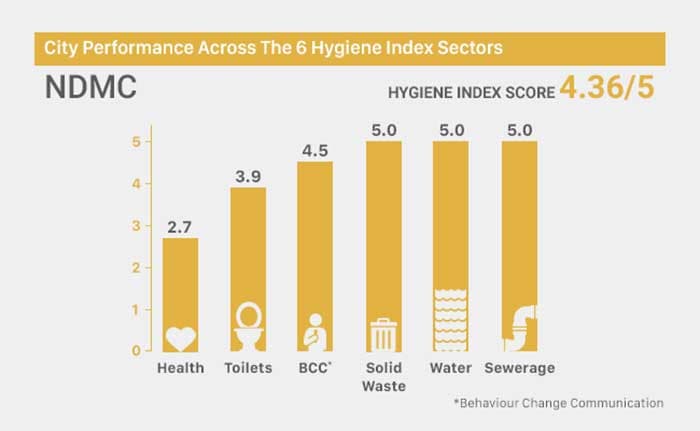 New Delhi Municipal Corporation: With a score of 4.36/5, NDMC renders a door-to-door solid waste collection service to nearly 27,000 households in Delhi. The households are directly connected to the sewerage system and receive safe drinking water. The civic body, however, falls behind in the category of health and toilets due to insufficient public toilets and lack of investments in the hygiene sector.Suggestion for improvement: Work towards scaling the behaviour change communication (BCC) activities to create public awareness on hygiene and build more public toilets.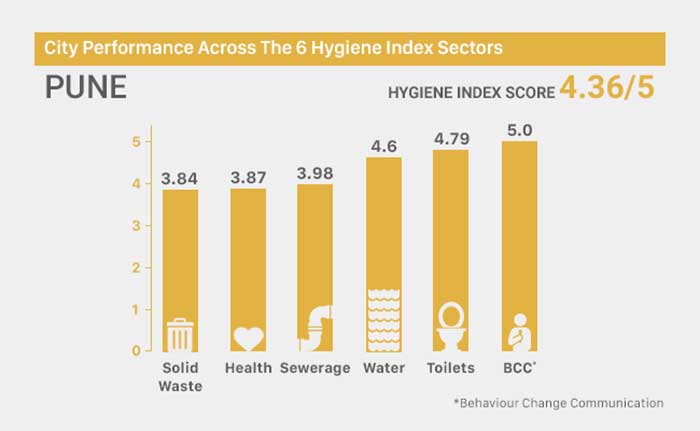 Pune: From having sufficient toilets, 100 per cent sewerage coverage, high awareness levels to having clean water for most residents, Pune's performance in hygiene index is remarkable at 4.36/5. The Pune Municipal Corporation (PMC) has formulated decentralisation making Puneites equal stakeholders in swachhta. The city has enough toilets that can cover 93 per cent of its floating population. Though ranked the lowest in waste management, waste systems in the city are efficient when compared to other Indian cities.Suggestions for improvement: Improve sewage treatment facilities to improve hygiene and sanitation levels.
Raipur: Though ranked at the bottom of the table, Raipur has managed to perform well in the categories of toilet and behaviour change communication. City witnesses a poor performance in areas of sewerage system, solid waste collection coverage and water supply. The Raipur Municipal Corporation (RMC) has invested majority of its funds in the water sector, while the other sectors have remained neglected. Suggestions for improvement: To improve overall hygiene and sanitation, the city needs to balance out its funds in other sectors especially in sewerage systems. The city also needs to raise the awareness levels to ensure community involvement towards swachhta.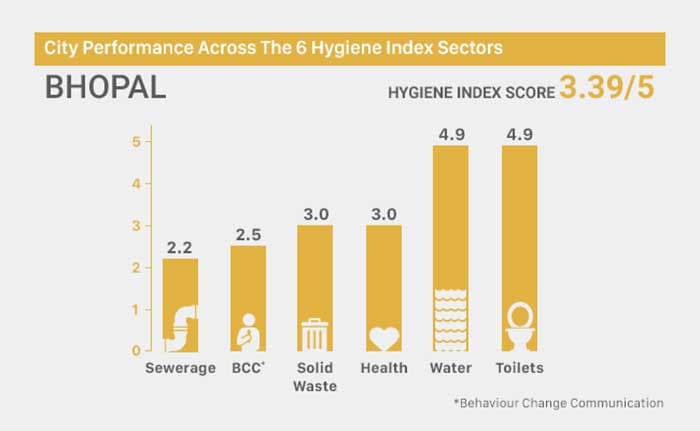 Bhopal: The city has 100 per cent coverage for household door-to-door solid waste collection however, when it comes to disposal, it has no concrete processing unit for the waste. With a score of 3.39, there are enough public toilets and almost every household has its own toilet. In terms of sewerage infrastructure the city lags behind with a score of just 1.5/5.Suggestions for improvement: As per the report, Bhopal Municipal Corporation (BMC) needs to effectively utilise the allocated BCC (behaviour change communication) funds to spread awareness about the importance of hygiene. BMC also needs to set up a decentralised sewage system.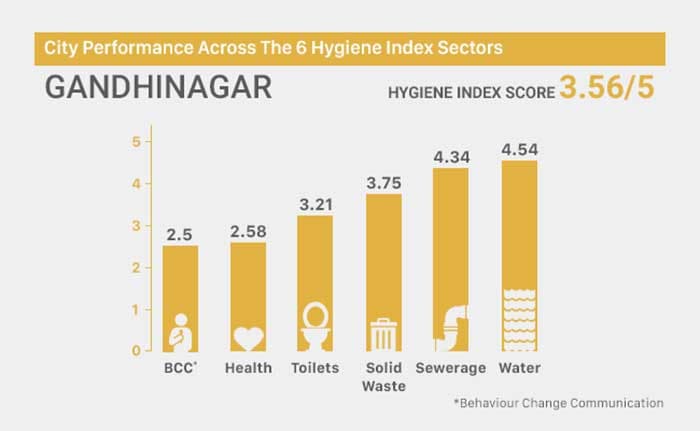 Gandhinagar: Scoring 3.56/5, Gujarat's capital performs well in the water and sewerage sectors. 6 per cent of its households are linked to main sewage lines. And more than 42,610 of its 49,000 households receive clean water. While there are adequate individual toilets, number of public toilets aren't sufficient for the floating population. The city performs poorly in the behaviour change communication (BCC) and health parameters.Suggestions for improvement: The Gandhinagar Municipal Corporation (GMC) needs to effectively utilise the allocated BCC funds to raise awareness levels among its residents.