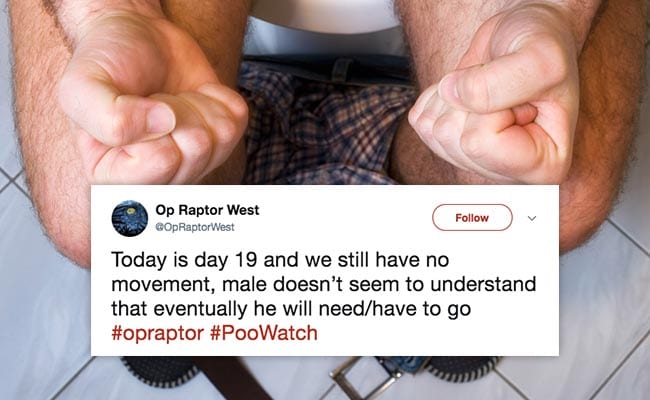 A suspected drug dealer has somehow managed to capture the attention of the Internet thanks to his reluctance to take a poop. The man was busted by the police in UK and is believed to have swallowed his stash. So, cops are now on a 'poo watch' as they wait for him to use the toilet. As the man's toilet strike enters Day 26,
Op Raptor West
has been tweeting updates from the case keeping Twitter thoroughly entertained.
According to initial tweets posted by Op Raptor West, the gangs and urban street crime unit for some areas, the man was arrested in Harlow for possession of Class A drugs with intent to supply. "Male doesn't think we have the power to keep him until he removes said items from his bottom," said a tweet posted on January 18, two days after the arrest.
Another tweet posted a day later informed everyone that the man had been in custody for 50 hours. Not only did he refuse to go to the toilet, he had also refused food.
We now enter day 9 of our detention of the male arrested for possession with intent to supply, @cpsuk representative made a very good point their summary to the magistrates "the one person preventing this from being resulted is the defendant himself" another 8 days authorised pic.twitter.com/TudAjl3nYT

- Op Raptor West (@OpRaptorWest) January 25, 2018
Days turned into weeks as Op Raptor West kept tweeting updates - or the lack of them - from the case. They also mentioned that the man was being checked by a doctor.
He is being seen daily by doctors and constantly watched, this is his own choice and so far his health is fine https://t.co/oXIcEWx4cg

- Op Raptor West (@OpRaptorWest) February 2, 2018
They eventually started using the hashtag #PooWatch with all the tweets.
Today is day 19 and we still have no movement, male doesn't seem to understand that eventually he will need/have to go #opraptor#PooWatchhttps://t.co/0Gs0CwjnQG

- Op Raptor West (@OpRaptorWest) February 5, 2018
The last update from the case was made on February 10, Day 24.
Nothing further to report, as soon as as this is resulted a statement will be released #opraptorhttps://t.co/ZXpKxMn5RL

- Op Raptor West (@OpRaptorWest) February 10, 2018
While there won't be any more updates on this matter, a spokesperson has told
Metro.co.uk
that they will make one final announcement "when he does what he needs to do".
Meanwhile Twitter cannot help but keep track of the on goings of this #PooWatch.
"I'm on the edge of my toilet!" says on Twitter user. "This bloke is amazing. He should be on Britain's Got Talent" says another.
Here's how some others have reacted:
Thanks for the update I followed to get the latest updates. I'm hooked!

- Rosie Greene (@cnbcwatcher90) February 7, 2018
Has he been yet???? Can t believe in interested in a stranger's toilet habits

- Tracey Osborn (@Tra1ousta) February 12, 2018
Nice script for a Netflix original serie.

- Onleefbaar Capelle (@OnleefbrCapelle) February 7, 2018
He must be like this holding it in!!! pic.twitter.com/hmdhjhXQHw

- Allan Discombe (@alnick1018) February 10, 2018
A police spokeswoman told
BBC
that the longest a suspect had gone without using a toilet was believed to be 23 days. Guess, we'll have to wait and watch to find out how long this man goes without using a toilet.Click for more
trending news