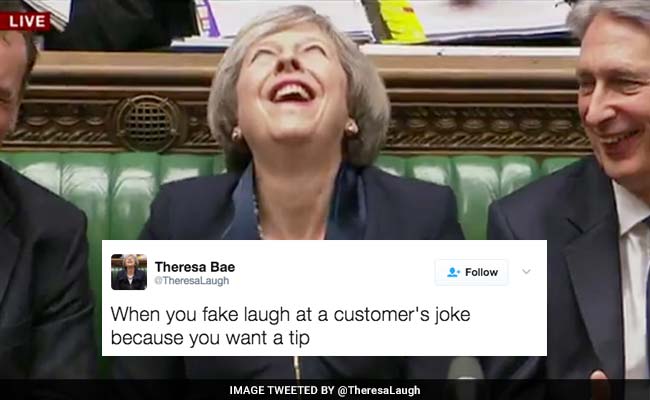 Highlights
British PM seen throwing her head back, laughing in the House of Commons
She was reacting to a remark Labour Party leader Jeremy Corbyn made
Clip of her laughing quickly became a meme, went viral on social media
New Delhi:
The Prime Minister of the United Kingdom, Theresa May, found herself to be the subject of Twitter's relentless trolling on March 8. A short clip of her throwing her head back and chuckling, shoulders heaving, soon found itself to be Twitter's favourite meme. Ms May was seen throwing her head back and laughing during the Prime Minister's Questions (often abbreviated as PMQs) in the House of Commons. The reason for her mirth seems to be Jeremy Corbyn's comment: "The text, Mr Speaker, said there was a memorandum of understanding, the PM said there was no deal, she is now unclear about this."
The leader was accused of being 'unclear' about whether there was a 'sweetheart deal' with the Surrey Council.
While many accused her of feigning her laugh, calling it 'pantomime' laughter, some compared it to a comic 'supervillain's laugh.' Most agreed that the clip was indeed meme-worthy.
You can check out the funniest memes below:
1. He called it
Well that was a meme waiting to happen #pmqs#theresalaughspic.twitter.com/sVc4SqSp0v

- Ed Brown (@Edsbrown) March 8, 2017
2. Some pointed fingers
When you said there was no secret sweetheart deal with @SurreyCouncil but you & your mates know there was.#TheresaLaughs#PMQspic.twitter.com/eKqHrUZXub

- David Cameroon (@davecameroon) March 8, 2017
3. Some were vicious with their jokes
When the homeless man asked Theresa for a fiver #theresalaughspic.twitter.com/jVXMZ5R0c1

- Jake Harvey (@jakeharv) March 8, 2017
Self employed, votes Tory.

You will pay more so we can cut you millionaire boss' corporate tax! #Budget2017pic.twitter.com/8ODPaKMoMA

- Theresa Bae (@TheresaLaugh) March 8, 2017
4. Natural. Got it.
SPAD: So he says something about terminally ill kids or whatever, then you laugh. Keep it natural. Got it?

Theresa: Natural. Got it.#PMQspic.twitter.com/zZ9L2V1WfG

- Tony Browne (@Misterbrowne) March 8, 2017
5. Some went straight to Photoshop... and nailed it
Did anyone else see Theresa May eating a fish during PMQs earlier? #PMQs#Budget2017pic.twitter.com/HJdIvR2hJo

- Harry Davidson (@davidsonhrj) March 8, 2017
#theresalaughspic.twitter.com/EMLbap0rcQ

- Dave Larkin (@DaveosaurusRex) March 8, 2017
6. President Trump managed to get trolled here as well
Every UK citizen when they realise that at least they don't have Trump pic.twitter.com/CCSIHFzwO8

- Theresa Bae (@TheresaLaugh) March 8, 2017
7. Some netizens could relate
When you fake laugh at a customer's joke because you want a tip pic.twitter.com/t4OxSMcaod

- Theresa Bae (@TheresaLaugh) March 8, 2017
8. And others drew comparisons
Remember Phoebe's "plan laugh"? Theresa May nailed it today. #TheresaMay#PMQspic.twitter.com/9FxjDUnqQv

- Philip Kyle (@philipjkyle) March 8, 2017
Where have I seen that laugh before? #PMQspic.twitter.com/VBKsfQqxDY

- Ian Ravenscroft (@Ravonski) March 8, 2017
Theresa May's laugh during #PMQs today. Watch and enjoy. pic.twitter.com/zvHupcfOTI

- Whinge O Rama (@nugohs898) March 8, 2017
9. People were not happy
Some people just want to watch the world burn...
Or laugh during important, life changing debates whilst dodging questions.#PMQspic.twitter.com/mt3reuIlm7

- Tricki D (Rob) (@Tricki_D) March 8, 2017
What do you think of the latest political meme? Let us know using the comments section below.