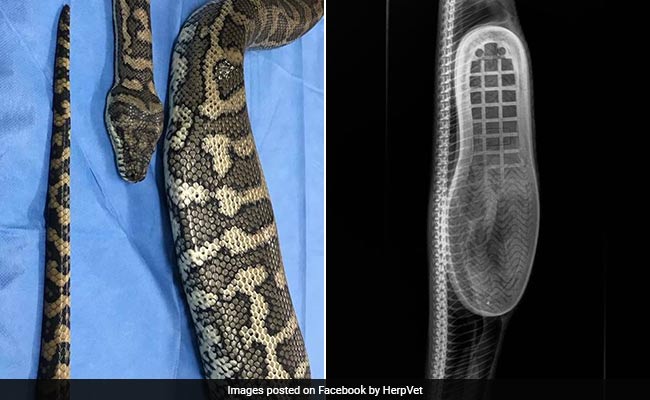 Highlights
The python swallowed a slipper in Australia
It was brought to a vet and surgery was performed to remove the slipper
The snake will be rehabilitated in a couple of days
An Australian veterinarian performed surgery on a carpet python to remove a slipper it had swallowed. The incident took place yesterday when a snake catcher in Mount Ommaney, Australia, brought a python to HerpVet - the reptile department within the Greencross Jindalee Veterinary Clinic.
"This wild, Coastal carpet python, was brought into the clinic by a local snake catcher after it was found in a home having ingested a slipper," wrote HerpVets in its Facebook post.
"They knew it had eaten a slipper because they saw the snake in the room with one slipper missing," the vet, Josh Llinas, told the
Courier-Mail
.
"Surgery was performed under general anaesthetic to remove the foreign object, with a procedure called a coeliotomy and gastrotomy. After removal of the slipper through the stomach was closed in two layers, the body wall muscle was closed and surgical staples were used for the skin," said the Facebook post.
You can read the full post here, but we must warn you that it contains graphic images.
The Facebook post has gone viral with over 4,000 'likes' and almost 3,000 'shares', and has left viewers disgusted and amazed in equal measure.
A video of the surgery was also uploaded on Facebook. (Warning: Graphic content, viewer discretion advised)
The snake was given fluids anti-inflammatories and painkillers, and will be rehabilitated in a couple of days.
In September last year, an injured 8-foot
python in Odisha
underwent a CT scan.
Click for more
trending news