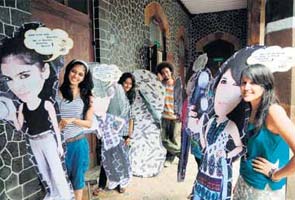 Mumbai:
As part of their unique '
Chappal Marungi'
campaign, BMM students at Wilson College are encouraging victims of eve teasing to strike back at molesters.
Within a month of its commencement, the one-of-a-kind campaign, spearheaded by media students of Wilson College, had enjoyed unprecedented popularity.
Six hundred people have expressed their willingness to create awareness of the drive on social networks. The campaigners aim to teach women how to fight against harassment.
The campaign is the brainchild of five business media and management (BMM) students -- Alisha Sharma, Shasvathi Siva, Abhishek Lamba, Malavika Mohanan and Bhavya Pandit -- who have come up with the unique concept as part of their media-planning project.
The campaign encourages women to beat down harassment, quite literally, with their chappals. Promoting the campaign, students can be seen with cutouts of
chappals
in their hands. They have also placed boxes full of
chappals
around the college premises.
Asserting that the professors of the college were equally supportive of the cause, Hanif Lakdawala, media planning professor of the college, said, "The objective is to teach students social etiquettes. '
Chappal marungi
' is a wonderful initiative to teach girls not to tolerate eve teasing and raise their voice against it."
The catchy name of the campaign has managed to create a buzz in the campus. Alisha Sharma, a team member said, "A
chappal
is symbolic of a weapon and since women can relate to it, it has become even more powerful."
The students also feel that the issue of eve teasing is not taken seriously enough. Boys in the college have lent equal support to it. Abhishek Lamba, another team member, said, "I cannot stand eve teasing and through this project we also aim to tell women to protect their rights and fight for themselves."
This campaign has also received a lot of attention on the social networking site, as over 600 people have 'liked' their Facebook page. Students of BMM and Bachelor of Management Studies (BMS) at Sydenham and UPG colleges have also adopted the project as a case study.
Explaining the importance of such projects, Professor Lakdawala said, "This is the time for students to give something back to the society. With this exercise, they will learn the power of mass media."
The campaigners have also put up a 5-ft tall model as a
chappal
, perhaps a toungue-in-cheek warning to potential molesters, of what lies in store for them.