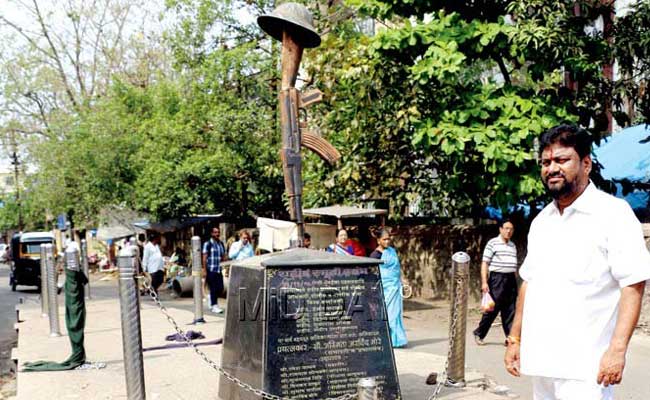 Mumbai:
Seven years after the horrific 26/11 terrorist attack, this is how the martyrs' bravery is being remembered - the memorial in Kalyan is crumbling and filthy, its paint flaking off, the tiles chipped, even as the spot is invaded by vagrants who hang clothes, throw rubbish and even sleep right there.
It's no surprise that the martyrs' families feel such memorials are less an honour than an insult. The Kalyan memorial was built in honour of five bravehearts who were killed during the attack in 2008 - Hemant Karkare, Ashok Kamte, Vijay Salaskar, Sandeep Unnikrishnan and Tukaram Ombale.
It was constructed in 2009 by the then Kalyan corporator, Asmita Arvind More, at the cost of Rs 4 lakh. Today, her husband Arvind is the corporator, and by his own admission, the rundown monument has become a haunt for drug addicts and vandals.
"We haven't renovated the memorial, because the road on which it stands is going to be concretized. We have plans of making a grander memorial with funds from the KDMC," Arvind told mid-day.
The KDMC commissioner, E Ravindran said, "I was unaware about the issue as it was never brought to my knowledge, but now I will get it corrected."
However, the martyrs' families have not taken kindly to this oversight and are of the opinion that politicians should not simply build memorials to score points if they will not put in effort to maintain them.
The widow of slain Senior Police Inspector Vijay Salaskar, Smitha told this paper, "If local politicians cannot maintain memorials, they should refrain from building them. Not only is this a waste of public money, the shabby and filthy condition of such memorials only serves to rub salt on our emotions.
I am against the very idea of memorials coming up in every part of the city, when the government has already constructed a memorial to the martyrs at the police gymkhana at Marine Drive." Smitha intends to write to the chief minister to ensure action is taken against those who construct monuments only to let them run into disrepair.
"The government should impose stringent norms for the construction of such memorials and action should be taken against those who fail to maintain them. Someone complained to me that a similar memorial between Charkop and Kandivli is also maintained shabbily. Why insult the deceased and their families in this manner?" she said.
Prime Location
The memorial is located between the courthouse and the police control room in the west side. The Mahatma Phule police station is hardly a minute away, and the DCP's office is pretty close too. Despite this, the memorial is in a pathetic condition.
" We built the monument here because important offices of the police, court, forest department are close by. We thought it will be safe, but despite that drug addicts have ruined everything. Next time we will build a memorial, we will build a fence around it to ensure no one can get in," said corporator Arvind More.
---------------------------------------------------------------------------------------------------------------------
VoicesVaishali Ombale, Daughter of Tukaram Ombale
On the day I am supposed to remember my father's bravery, I am deeply saddened to learn about the pathetic state in which his memorial is kept at Kalyan.
Mahendra P Choudhary, Retired Colonel
When the Armed forces erect a memorial it is looked after very well. Civilians on the other hand are interested in erecting a memorial as a publicity stunt.
Amit Khetle, Constable, Sustained three bullet injuries during 26/11
It is saddening that a memorial that was constructed at Kalyan in remembrance of senior police officers is in shambles. Politicians should not use memorials as publicity stunts. We must respect the martyrs of 26/11.
Mansi Shinde, Widow of Inspector Shashikant Shinde
Every 26/11, I remember the horrific night that shook the city. My husband fought like a warrior and laid down his life in the process. I can't ask everyone to respect this sacrifice, but appeal to the public to not disrespect it in this way.