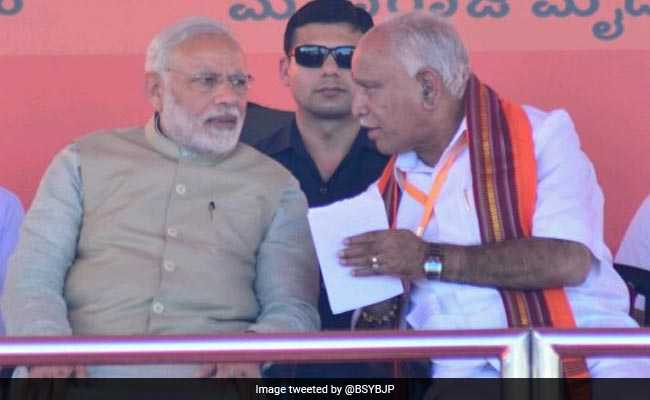 Bengaluru:
On Tuesday, as former Karnataka Chief Minister BS Yeddyurappa turned 75, Prime Minister Narendra Modi attended a rally in Karnataka in a symbolic boost to the state BJP chief's election campaign in the southern state. The BJP has also projected Mr Yeddyurappa as its chief ministerial candidate in Congress-ruled Karnataka.
But there could be a catch -- the BJP is said to have a cut-off of 75 years for anyone who wants to contest elections, though party president Amit Shah has denied any such age limit.
"It is not a mandatory policy in the BJP constitution. It is only unofficial guidelines followed by the party. There have been exceptions in the past as well," BJP spokesperson S Prakash told NDTV.
Senior BJP leaders said Mr Yeddyurappa was not 75 when he was chosen as the chief ministerial candidate and as someone who would lead the party in the Karnataka assembly election.
Mr Yeddyurappa's party has said he also is the only sitting Member of Parliament who has been allowed to contest the Karnataka assembly election. If the party does come to power in Karnataka, he would, however, need to be a legislator to be the chief minister.
The Congress has now taken hold of the issue to attack the BJP in a bid to create confusion in the rival party as part of its election offensive. Karnataka Congress working president Dinesh Gundu Rao said the BJP "is just using him (Mr Yeddyurappa) because they have nobody else in Karnataka."
"This is an internal matter of the BJP. But knowing our Prime Minister, the reason why he came yesterday (to Karnataka) was to say goodbye to Yeddyurappa... I think after the elections, whatever happens, this would be the final function Yeddyurappa is having," Mr Rao told NDTV.
The Election Commission has said the dates for the Karnataka assembly election would be announced around April 15.