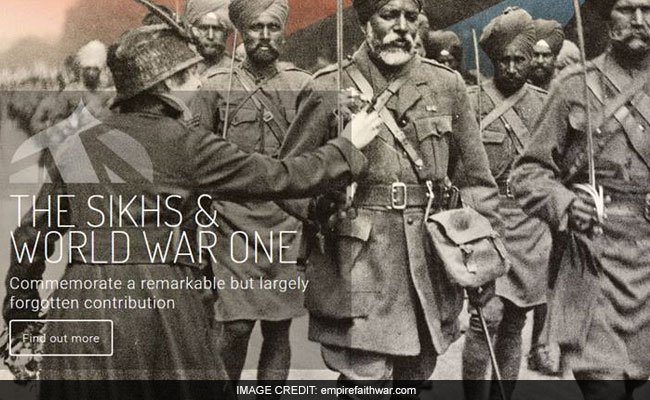 London:
A new website which aims to build the biggest database on the Sikh experience in World War I has gone live as part of a worldwide crowd-sourcing initiative.
The UK Punjab Heritage Association (UKPHA) launched empirefaithwar.com as part of a wider three-year 'Empire, Faith & War: The Sikhs and World War One' project to coincide with the centenary of the Battle of Somme on July 1, 1916 - described as the bloodiest battle of the Great War.
"We have created an exciting interactive 'Soldier Map' that displays the records of approximately 8,000 Sikh soldiers. We want to enrich the records that already exist and add as many more as possible to preserve vital information that is at risk of being lost forever," UKPHA said in a statement.
"By combining family memories and memorabilia with archival records, we have the opportunity to collectively create the definitive database of the Sikh experience of the Great War so that their sacrifices and suffering will never be forgotten again," the association said.
The project has received a grant of 448,500 pounds from the UK's Heritage Lottery Fund to chronicle the sacrifices made by Sikhs in the Battle of Somme and other battles between 1916 and 1918.
Although accounting for less than 2 per cent of the population of British India at the time, Sikhs made up more than 20 per cent of the British Indian Army at the outbreak of hostilities.
They and their comrades in arms proved to be critical in the early months of the fighting on the Western Front, helping save the allies from an early and ignominious defeat.
According to estimates, every sixth British soldier serving during World War I would have been from the Indian subcontinent, making the British Indian Army as large as all the forces from the rest of the British Empire combined - including the forces of Australia, Canada, New Zealand and South Africa.
The story of Sikhs in World War I has been captured through original artefacts, unpublished photographs and drawings, newspapers and comics, postcards, works of art, uniforms, gallantry medals, and folk songs sung by the wives left at home in an exhibition in London two years ago.
Many of these elements will filter through into the website, which has already attracted 200 families to engage with the project.
The 'Soldier Map' uses Google Maps technology to place a soldier in his place of birth in pre-Partition Punjab.
It has a 'Citizen Historians in Action' section which invites Sikhs and non-Sikhs from around the world help create a virtual memorial and legacy.
The website also includes audio interviews with veterans, recorded over 30 years ago by historian and author Charles Allen.
Close to 1.5 million Indians served the British Indian Army, fighting in all the major theatres of war from Flanders fields to the Mesopotamian oil fields of what is now Iraq.