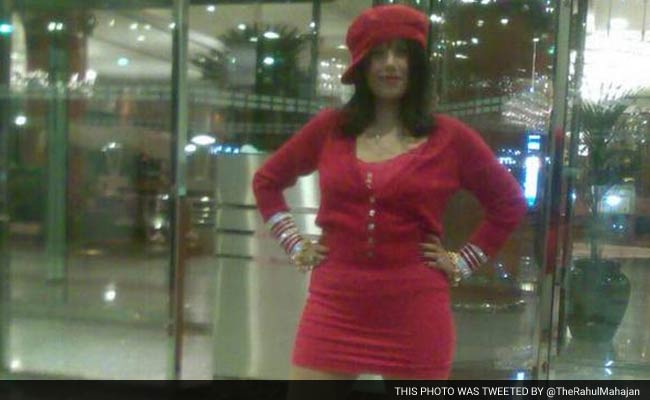 New Delhi:
She calls herself Radhe Maa, a godwoman, and her latest controversy involves a mini-skirt. Photographs of Radhe Maa in a red mini-skirt are in wide circulation on social media.
The photographs were shared by reality TV star Rahul Mahajan, who has said in his tweets "by calling this woman #RadheMaa we are disrespecting Radhe and Maa both."
Guess who ???? pic.twitter.com/KOg8EFJCGB

- Rahul Mahajan (@TheRahulMahajan) August 5, 2015
For two days, Radhe Maa has been among the top trending topics and has not budged.
Self-styled #God like #RadheMaa only exploit the religious sentiments of we #Indians

Saurabh Dwivedi (@saurabhdwivedio) August 6, 2015
We worship people like these as GOD & that's why we are where we are . #RadheMaa

ClasslessIndian (@ClasslessIndian) August 6, 2015
The self-styled spiritual leader is usually seen in glittering red bridal wear, heavy jewellery and layers of make-up. Thick garlands and a trident complete the picture.
Radhe Maa has been accused of dowry harassment by a woman, who has filed an FIR or police complaint in Mumbai. The woman has said that her husband's family tortured her on the godwoman's advice and forced her to serve Radhe Maa, do chores for her and give her massages.
A statement on Radhe Maa's Facebook page said that her devotees were unhappy at the "adverse coverage" in some channels. "The reports are full of inaccuracies, unsubstantiated allegations, and rumors that have no basis in fact," said the statement.
The glamorous woman that followers call Radhe Maa is Sukhvinder Kaur, believed to be in her 50s with three children. Many of her devotees credit her with supernatural powers and avidly follow her discourses.
She reportedly started calling herself a "godwoman" at 23.
In the crowd of saffron or white-robed godmen, she stands out. Social media is flooded with videos of her dancing to Hindi film songs or being lifted and hugged by devotees.
Recently, there were calls to ban her from the Kumbh Mela in Nashik, the largest religious gathering in the world.