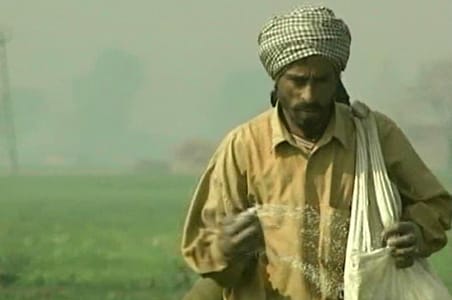 New Delhi:
The government's decision to hike urea prices, as part of its move to rationalise subsidies, has upset farmers. Farmers are heavily dependent on urea for their production. They say it will only increase their burden.
Commenting on the Cabinet's decision, one of the farmers in Punjab said, "It is a big setback for the farmers as Punjab yields maximum production."
Farmers are already under so much debt, with the increase in the price of Urea they will be badly hit. Fertilizer is used in all crops. Farmers will be crushed with this hike, commented another farmer.
While the government has hiked the price of urea, it has decontrolled prices of all other fertilisers. The subsidy on these will be based on their nutrient content, and not on a per bag basis.
This is a first step towards reining in a spiralling fertilizer subsidy bill that has crossed Rs 100,000 crore in 2008-09.
Come April 1 and India will shift to a nutrient based fertiliser subsidy regime which means fertilsiers with double dose of nutrients will get additional per tonne subsidy.
But the catch here is the retail prices of the subsidised fertilisers at farm gate level will be decided by the fertiliser companies.
"The government in order to conform that the farmers are not burdened to pay more has reserve the right to intervene as and when needed. The government's commitment to farmers have been reiterated," says Information and Broadcasting Minister Ambika Soni.
Through the nutrient based subsidy policy, the government hopes to achieve balanced fertilisation and increased farm productivity to help meet different requirements of Indian agriculture.
The new policy is also meant to map the actual demand for fertilisers in the country as well as promote realistic pricing of fertiliser products in the international market. Under the new regime, the government is looking to unshackle the fertiliser industry and attract more investments.
The government has also hiked the maximum retail price of urea by 10 per cent to Rs 5310 per metric tonne from Rs 4830 per metric tonne.
So, is the fertiliser industry happy about it?
"As far as the increase in urea price is concerned, it will not affect the margins. It will reduce the subsidy, margins will remain unaffected. To that extent the realisation of the market will go up and the realisation of the government will go down," says Uday Shankar Jha, CMD of Rashtriya Chemical Fertilser.
Though the government has stressed that the new policy will not adversely impact the farmers only time will tell how things pan out. An Inter-Ministerial Committee too has been set up for proper implementation of the policy.