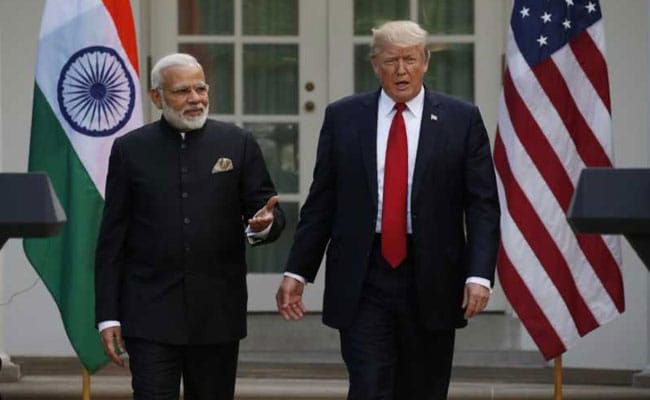 New Delhi:
US President Donald Trump has unveiled a new National Security Strategy describing India as a "leading global power" and asserting that it will deepen America's strategic partnership with India and support its leadership role in maintaining security in the Indo-Pacific region. President Trump also asked Pakistan to take "decisive action" against terrorist groups operating from its soil, as he unveiled America's new National Security Strategy.
"We welcome India's emergence as a leading global power and stronger strategic and defence partner," US' new National Security Strategy stated. The document stated that the United States will seek to increase quadrilateral cooperation with India, Japan and Australia.
"We will expand our defence and security cooperation with India, a Major Defence Partner of the United States, and support India's growing relationships throughout the region," the document stated speaking about the Indo-Pacific region.
The 68-page document referred to the India-US defence relationship in the context of Indo-Pacific region, and gave a very prominent role to India in South and Central Asia.
According the the document, the United States seeks a Pakistan, that is not engaged in destabilising behavior and a stable and self-reliant Afghanistan.
"We have made clear to Pakistan that while we desire continued partnership, we must see decisive action against terrorist groups operating on their territory. And we make massive payments every year to Pakistan. They have to help," President Trump said in his remarks as he announced his National Security Strategy.
Pakistan has received more than $33 billion from US since the 9/11 terror attacks.
"We will press Pakistan to intensify its counter-terrorism efforts, since no partnership can survive a country's support for militants and terrorists who target a partner's own service members and officials," the document stated.
"If Pakistan does not take action to lawfully detain Hafiz Saeed and charge him for his crimes, its inaction will have repercussions for bilateral relations and for Pakistan's global reputation," the White House Press Secretary Sarah Sanders had said in November.
In his South Asia speech on August 21, Donald Trump became the first US president to publicly point out Pakistan's support to terrorist outfits and leaders. "For its part, Pakistan often gives safe haven to agents of chaos, violence, and terror," he said and asked Pakistan to "demonstrate" its commitment to civilisation, order, and to peace."
Engaging with India to keep a watchful eye on China's "expansionist" strategies, the US policy document states: "We will deepen our strategic partnership with India and support its leadership role in Indian Ocean security and throughout the broader region," which the White House said sets a positive strategic direction for the United States.
On China's One Belt One Road or OBOR and the China-Pakistan Economic Corridor (CPEC), the US administration said it will help South Asian countries "maintain their sovereignty" as China increases its influence in the region. India has protested the China-Pakistan Economic Corridor as it passes through Pakistan-occupied Kashmir.
"We will help South Asian nations maintain their sovereignty as China increases its influence in the region," it stated.
The recent Chinese move in Sri Lanka and Maldives is seen as a planned effort by China to encroach their territory and eat into their sovereignty, with similar fears for Pakistan, as China looks to trap them in form of debt.
Apart from freedom of navigation, US interests in the region include countering terrorist threats that impact the security of the US homeland and its allies, preventing cross-border terrorism that raises the prospect of military and nuclear tensions, and preventing nuclear weapons, technology, and materials from falling into the hands of terrorists, it said.
India said it appreciated the strategic importance given by the United States to bilateral ties.
"As two responsible democracies, India and the United States share common objectives, including combating terrorism and promoting peace and security throughout the world," said Raveesh Kumar, the spokesperson of the Ministry of External Affairs.
"A close partnership between India and the US contributes to peace, stability and prosperity in the Indo-Pacific region as well as to the economic progress of the two countries," he added.