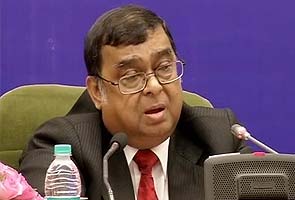 New Delhi:
Chief Justice of India Altamas Kabir today said the relationship between the judiciary and the executive was near collapse.
"Judges and chief justices have to depend to a great extent on the executive for financial and other reasons. The executive also needs to have a dialogue with chief justices and judges once in a while so that harmony is maintained and there is a liaison and a bridge. I want to restore this bridge, which was on the verge of collapsing," the Chief Justice said after a conference of chief ministers and chief justices of high courts in New Delhi.
His remark comes just days after Telecom Minister Kapil Sibal had suggested that judicial intervention was affecting decision-making by the government.
The Chief Justice said the courts do not interfere unless they feel the government's policies are going against the Constitution.
Today's conference was held after four years. The Chief Justice emphasised that such interactions should be more frequent.
At the conference, Prime Minister Manmohan Singh acknowleged the pressure on the judiciary because of an estimated three crore pending cases. He said the number of judges in the lower judiciary should be doubled to settle the cases faster.
Law Minister Ashwini Kumar later said the Centre will set up more fast-track courts for cases against women and children.