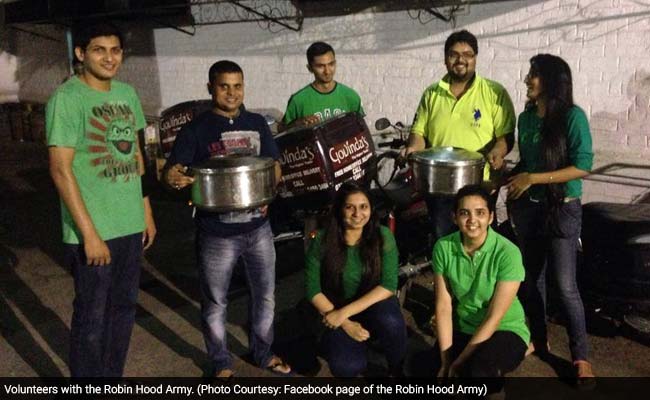 New Delhi:
Every Sunday, at around 8.30 pm, a group of volunteers in green t-shirts heads out in different directions with packed food like
vada pav, khichdi
and
parathas
to serve homeless people.
This service is the effort of two friends who have collaborated with different restaurants and eateries in Delhi, Mumbai, Hyderabad, Kolkata and Bangalore to help feed the homeless through their "Robin Hood Army", a four-month-old initiative.
They hope to change this from a weekly service to a daily one.
"From the very beginning we were clear that we won't be serving these people waste food. We requested the eateries to give us leftovers," Anand Sinha, 27, told news agency IANS.
"Some of the eateries were so excited with this concept that they chose to prepare fresh meals for us," he added.
Gurgaon-based restaurant Kebab Xpress provides them 100 fresh
vada pavs
, while late-night delivery service Midnight Munchies provides fresh
khichdi
and
parathas
.
After getting some restaurants on board, they launched a Facebook page and succeeded in attracting 40 volunteers to collect and distribute food packages.
They now have 120 volunteers in the five cities who feed an estimate 1,600 people every Sunday.
"We all are working people so it becomes very difficult to do this activity every day. But with the kind of support and encouragement people have shown through our Facebook page, we would like to organise a bit more and do it on a daily basis," said Mr Sinha.