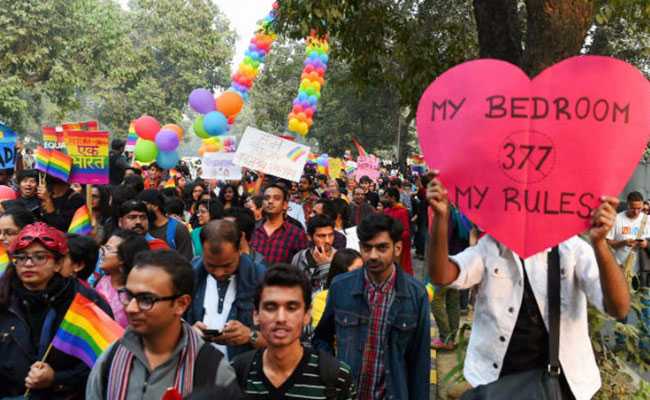 New Delhi:
Chief Justice of India Dipak Misra today said the LGBT community feels the stigma "because of the criminality attached (to gay sex) and once it is removed, homosexuals can get together". The court, which is on the third day of a crucial hearing that will decide whether the 150-year-old ban on gay sex in India will continue, also explored the instances of homosexuality in nature. Yesterday, indicating that the ban may soon be gone, Justice Misra said, "We intend to rule, subject to arguments, that two consenting adults even if engaged in 'unnatural sex' will not be liable for prosecution".
Here are the top 10 facts of this big story:
"Over the years, we have created an environment in the Indian society which has led to deep-rooted discrimination against people of same sex involved in a consensual relationship and this has impacted their mental health also," the bench said on the third day of crucial hearing to decide the constitutional validity of Section 377.

The court's observation came as Advocate CU Singh, who is representing one of the petitioners, said the LGBT community continues to suffer mental problems because of the stigma. Just striking down the Section 377 will not serve the purpose, he said.

Justice Indu Malhotra, who is part of the five-judge constitution bench hearing the case, said, "Prakriti (nature) and vikriti (aberrations) exist together in nature and there are hundreds of species, which indulge in same sex intercourse."

Justice Malhotra also pointed out that the LGBT people do not get proper medical care because of inhibitions in the medical community.

Yesterday, the government said it would leave the decision on gay sex ban to the five-judge constitution bench. The court would also decide whether the law, in relation to the gay community, is constitutionally valid.

Under Section 377 of the Indian Penal Code, sex "against the order of nature" draws a jail term and a fine. While prosecutions under it has been rare, activists say the police use the law to harass members of the LGBT community.

The five-judge bench that is examining the issue is headed by Chief Justice Dipak Misra and has Justices R F Nariman, A M Khanwilkar, D Y Chandrachud and Indu Malhotra.

To governmnet's concerns that the court not look into other aspects of the Section 377 besides its link to gay sex, the court yesterday said, "We will only decide on the challenge to Section 377 and what civil rights follow, will be decided later".

The court has said it would only examine the "correctness" of its verdict of 2013, which cancelled a Delhi High Court judgment that declared criminalizing gay sex between consenting adults was "unconstitutional".

Five years later, in January this year, the top court decided to take a fresh look into the issue after a bunch of petitions calling for it piled up.