Prime Minister Narendra Modi will hold bilateral talks with Afghanistan President Ashraf Ghani on the sidelines of Heart of Asia Conference in Amritsar.
Commitment To Afghanistan Unwavering And Absolute: PM Modi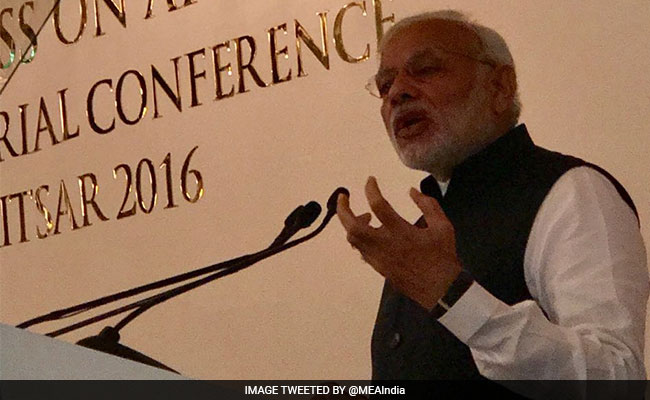 We should also work for stronger positive connectivity with Afghanistan and other countries.
Afghanistan should be at the centre of our connectivity.
With Afghanistan lies the regional arteries of trade for growth and progress of our region.
On India's part, our commitment to our Afghan brothers and sisters absolute and unwavering.
Our joint efforts should be to nurture the young seeds of Afghanistan, to build infrastructure and educational institutions.
Herat, also called Salma Dam, launched a few months ago, will help people economically.
India-Afghanistan-Iran cooperation on Chabahar will help Afghanistan to connect its economy to the rest of the world.
We also plan to connect India and Afghanistan through an air corridor. I have spoken to President Ghani.
Development in place of need, security in place of terrorism. Let us decorate in making Afghanistan a region of peace. A place where democracy and prosperity prevail.