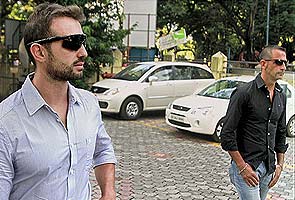 New Delhi:
As news of Italy's decision to send back the two marines accused of killing Indian fishermen to face trial here came in, Minister of State for Home RPN Singh tweeted "India's tough stand as articulated by the PM and Sonia Gandhi has worked."
Speaking to reporters today, Foreign Minister Salman Khurshid said, "Diplomacy has worked where many experts had it written off," and said that he would make a detailed statement in Parliament.
Finance Minister remarked, "Government diplomacy has succeeded."
On Monday, Congress President Sonia Gandhi had slammed Italy for its refusal to send back the two marines and had asserted that no country will be allowed to take India for granted.
"The defiance of the Italian government on the question of the two marines and its betrayal of a commitment to our Supreme Court is outright unacceptable," Mrs Gandhi had said, while addressing a meeting of the Congress Parliamentary Party (CPP).
The office of Italian Prime Minister issued a statement last night saying that the marines -- Massimiliano Latorre and Salvatore Girone -- had agreed to return to India, during a meeting with outgoing Prime Minister Mario Monti and other ministers.
Foreign Ministry spokesperson Syed Akbaruddin tweeted: "Following diplomatic contacts #Italy informed that Marines will return to #India in accordance with timeline provided to Supreme Court."
The marines had been granted special leave last month by the Supreme Court to return to Italy to vote in elections after Italian Ambassador Daniele Mancini gave an assurance to the court that they would return. On March 11, Italy announced that they would not return, sparking a diplomatic furore between the two countries.
The two marines are accused of shooting two fishermen they claim they mistook for pirates off the coast of Kochi last year. Italy wants them to be by an international court. India maintains the incident happened in Indian waters, Indian lives were lost, and therefore they should face trial in India.