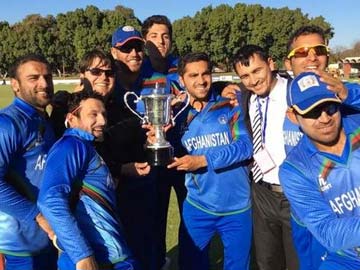 New Delhi:
India has given Afghanistan's cricket dreams a new push by announcing a $1 million grant for building a cricket stadium in the southern province of the country.
India's drive was acknowledged by the Afghan Cricket Board (ACB) Chief Executive Dr Noor Mohammad Murad as a major achievement. A letter released by the ACB from the Indian Ambassador Amar Sinha to Afghan President Hamid Karzai stated, "Excellency, in your capacity as the chief patron of the ACB, you will be happy to know that the Government of India has just approved $1 million for the construction of the Kandahar cricket stadium at Aino Mena, Kandahar."
The letter goes on to say, "We have realised that sport, both cricket and football, have united the country and enthused the youth as nothing else." The letter takes into note the rapid strides Afghanistan's national team has made.
The Afghanistan cricket team returned home on August 7 after a historic Zimbabwe series. They won two ODIs and one unofficial test match to take the series. This followed their path-breaking defeat of Bangladesh in the Asia Cup. Afghanistan will make its ODI World Cup debut next year.

President Hamid Karzai to NDTV
Meanwhile, President Hamid Karzai acknowledged India's million-dollar gesture. In a statement, he told NDTV, "We welcome India's one million dollar assistance for a cricket stadium in Kandahar. We gratefully appreciate India's continuing commitment to the reconstruction of Afghanistan. India is a great and historical friend of Afghanistan and Afghans greatly value this friendship."

Cricket in the Time of Conflict
Afghanistan is a country synonymous with suicide bombers and air-strikes. But, there is another dimension that isn't highlighted. Its meteoric rise in the cricketing world is as incredible as it is full of romance.
The Taliban had banned sport when they ruled the country from 1996-2001. In just nine years after their fall, the country literally picked itself up from its boot-straps in the cricketing world.
Afghanistan moved from division five, the lowest for international one-day tournaments, to rubbing shoulders with the top two ranked teams - South Africa and India in the 2010 T20 World Cup.
In 13 years, since the fall of the Taliban, the team has qualified for two T20 World Cups. The pinnacle though is qualification for the 2015 ODI World Cup. The national team has been uniting a war-ravaged country - with even Taliban dominated areas celebrating their success wildly on the streets. And it is in the birthplace of the Taliban - Kandahar - that India has made this latest bold drive.