Una, Himachal Pradesh:
Prime Minister Narendra Modi today called the elections in Himachal Pradesh - just four days away - "one-sided", in a stinging jibe at the Congress, saying the party had "run away from the battlefield". Accusing of "rampant corruption", he said the Congress had siphoned off Rs 57,000 crore meant as subsidy for the poor.
Addressing a rally in Una, PM Modi - on his third and last round of campaigning before the state votes on November 9, Thursday - also slammed the Congress over its decision to observe the first anniversary of notes ban on November 8 as a "black day".
"People used to loot the treasury in the name of subsidies. In the past, 57,000 crore used to get leaked due to rampant corruption in implementing subsidies," he said.
Stressing that development is the only solution, PM Narendra Modi said, "Our focus is on v
ikas
. Only development is the solution to all the troubles and take the nation to greater heights."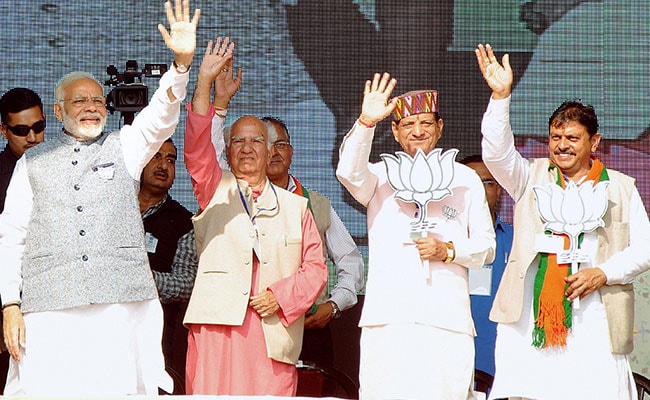 Later, at a rally in Palampur, the PM said, "Corruption is the only identity of the Congress party."
Elections to the 68-seat state assembly will be held on November 9 and votes will be counted on December 18.
PM Modi, during a rally in Raitt district yesterday, said that the Congress has conceded defeat in Himachal Pradesh as its senior leaders have "run away" from campaigning in the state leaving Chief Minister Virbhadra Singh to his fate.
He also likened the Congress party to "termites", and exhorted the people to wipe it out by handing over a three-fourths majority to the BJP in elections.
"If you clean just on the surface, termites come back after a few days. The Congress party's depraved mentality is like termites. You cannot just change the government and expect to be done with it, you have to take them out from the roots. Only then we can free Himachal of this disease," he had said.