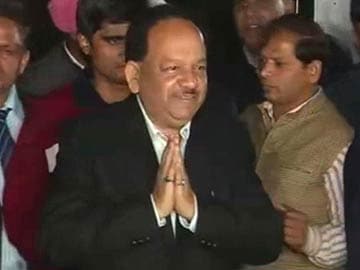 New Delhi:
After suggesting that fidelity in marriage is a better way of fighting AIDS than condoms, Union Health Minister Harsh Vardhan now wants sex education banned in schools.
"So-called 'sex education' to be banned. Yoga to be made compulsory," Dr Harsh Vardhan says in what he calls his "Educational vision for Delhi".
What he does want is the inclusion of value education, patriotism, social consciousness and spirituality in school curriculum.
Harsh Vardhan was the BJP's candidate for Chief Minister in the December Delhi election before he contested the national election.
The minister is currently visiting the US. His aides say these are his personal views but critics on social media are not making that distinction.
"Highly disturbed and disappointed by statements by a doctor health minister banning sex ed in schools. BJP at its regressive worst," tweeted author Chetan Bhagat.
The union minister is yet to untangle himself from the controversy after his comment that the focus on condoms in AIDS awareness campaigns sent a "wrong message that you can have any kind of illicit sexual relationship, but as long as you're using a condom, it's fine."
In an interview to the New York Times, the minister also reportedly said he favoured "promoting the integrity of the sexual relationship between husband and wife, which is a part of our culture."
The comments have earned condemnation at a time India, home to the third largest population of HIV-infected people, assesses that most of these cases are due to unprotected sex.
Defending his views in a statement, Dr Harsh Vardhan said on Wednesday, "Condoms promise safe sex, but the safest sex is through faithfulness to one's partner."
Explaining that he had no moral objections to the use of condoms, he added, "Any experienced NGO activist knows that condoms sometimes break while being used. That is why government campaigns in India should focus on safe sex as a holistic concept which includes highlighting the role of fidelity to single partners."