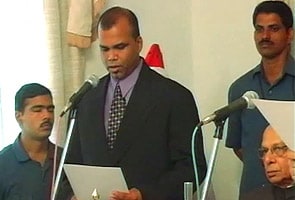 Mumbai:
Mickky Pacheco, accused of conjuring up an illness as a get-out-of-jail pass, has been arrested finally by the Goa police.
The former Minister of Tourism in Goa is accused of being involved with the death of a young woman who he describes as a "close friend", Nadia Torrado.
Nadia died in a Chennai hospital in May of complications that arose from eating rat poison. Her family, like Pacheco, says she mistook the tube of rat poison for a tube of toothpaste. The Goa police, however, have accused Pacheco of culpable homicide. It has said that Pacheco tried to destroy evidence that linked him to Nadia's death.
Pacheco disappeared in early June for close to a month after he was interrogated by the Goa police. He applied for anticipatory bail several times, but was rejected by a series of courts. He finally surrendered in a court in Margao on July 3 after the Supreme Court turned down his bail application.
Within a few hours of being taken into custody, however, he complained of chest pains and was moved to hospital. The Goa police had argued that his illness did not seem genuine. A local court said earlier this week that Pacheco could be taken back to jail as soon as doctors declared him medically fit.