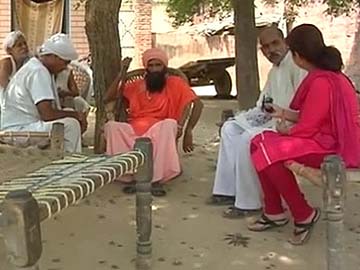 Muzaffarnagar:
In two homes in Muzaffarnagar, the Uttar Pradesh district lacerated by deadly riots, two families are holding prayers to mark a year since their young sons died.
In Malikpura, the family of cousins Sachin and Gaurav mourns their boys amid tension and fear, unabated in the last 12 months. Not far, in Kawwal, Shahnawaz's father too says nothing has changed.
In August last year, on this day Sachin and Gaurav, teenaged Jat boys, were killed by a Muslim mob. On the same day, they had allegedly murdered Shahnawaz, a Muslim youth, for harassing their sister.
The killings triggered three-weeks of murder and mayhem as violence tore through village after village, fanned by provocative speeches by local politicians.
By the time the riots ended, 62 people were dead and more than 40,000 were homeless, having fled their homes in fear. Many are yet to return as deep suspicion and fear linger.
Sachin's mother Munni admits, "I am afraid for my family. We are not getting justice. I am scared for my daughter. The environment has gone from bad to worse."
Sachin's sister, who is pursuing a Masters in History has not been to college in the last year. In fact, she says, she has not left the house except for exams. "I am an MA student and haven't gone out of the house for the past year and I don't feel like going out, I stay at home," she said.
The youngest sister in the family is a Class 12 student. She can't leave home alone - she goes to school pillion-riding on a bike with someone in the family and is escorted back the same way.
The desolation in the home of Shahnawaz is even more stark.
Surrounded by grey walls his father bitterly lashes out at the government and the police. "No arrests made on our FIR," he says bleakly.