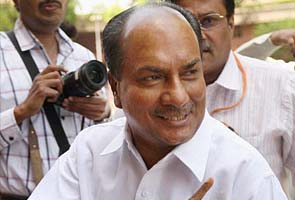 New Delhi:
Lt. Gen Jatinder Singh, commandant of the National Defence Academy (NDA) at Pune, that has been caught in a recruitment scandal in recent days, has been shunted out by the Defence Ministry to ensure "a free and fair" probe into the case, an official said.
"Defence Minister A.K. Antony has ordered the immediate shifting of Lt. Gen Jatinder Singh, Commandant, National Defence Academy (NDA), Pune. This is with the view to ensure a free and fair investigation in the alleged bribery racket in the recruitment of Group 'C' posts in the NDA, Khadakwasla, Pune," the official said. Lt. General Jatinder Singh is not yet an accused in the case.
A serving Colonel was arrested by the Central Bureau of Investigation in Mumbai after allegations of certain irregularities in the recruitment process for the post of Lower Division Clerks (LDC) and Group C employees.
Apart from Colonel Kulbir Singh, Staff Officer to the NDA Commandant, five other persons were named in the complaint regarding the recruitment which took place during the months of May and June 2012.
Reports say that the officer allegedly took Rs. 3-4 lakh from each person for a guaranteed appointment. He has also been accused of committing fraud in the examinations conducted for these posts.
The five civilians who worked as links between the candidates and the army officer include Balkrishna Charanlal Kanojia who runs a laundry at NDA and also owns two restaurants, Vishnu Prasad Sharma, Dattatrey Eknath Shitkal, Manoj Maruti Shiktkal and Ramesh Dilip Gaikwad.
According to the CBI, its officials conducted raids at 14 places in Pune and one each in Mumbai, Gurgaon and Sonepat and recovered Rs. 1.71 crore and some incriminating documents.