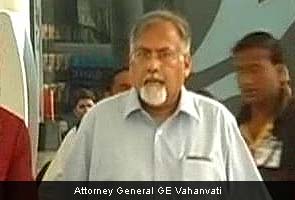 New Delhi:
The CBI's investigation into how coal fields were allocated to private players has turned into a rip tide for the government, with some of its A-listers trying to stay afloat despite charges of brazen misconduct.
The country's top law officer, Attorney General GE Vahanvati, has been accused of lying in the Supreme Court by Harin Raval, who resigned as Additional Solicitor General yesterday.
Today, Mr Vahanvati said he did not attempt to influence the CBI's investigation because he did not ask to see a copy of its report, and that he did not see the document that was given to the Supreme Court on March 8.
However, he did see a version of that report- and therein lie his troubles.
The government's problems are rooted in a meeting called by Law Minister
Ashwani Kumar
on March 5, where he vetted the CBI's report. Present at the session were the Attorney General, Mr Raval, CBI director Ranjit Sinha and the CBI officer with direct charge of the coal investigation, OP Galhotra.
The Law Minister asked for changes to the report. Three days later, the document was given to the Supreme Court. Whether or which changes Mr Kumar sought were accommodated is so far unclear. The CBI has been asked to detail this by Monday in writing.
What places the spectre of misconduct over the Attorney General is that he told the Supreme Court, when the report was given to judges, that he was not aware of its contents, and that the government had not seen the document.
Mr Raval, in a letter written to Mr Vahanvati before he resigned, says this is patently untrue, and that the Attorney General tried to interfere with not just this but other cases being handled by the CBI.