Lucknow:
Yogi Adityanath's predecessor Akhilesh Yadav has mocked the
Uttar Pradesh Chief Minister's visit to the Taj Mahal
and his broom-wielding cleanliness drive there, alleging he was forced to go after a row over controversial statements made by leaders of his party the BJP against the famous 17th century architectural marvel.
"And see how times change. Those who made disparaging statements about the Taj Mahal, those who refused to accept it as part of Indian culture, they are forced to launch a cleanliness drive at its west gate," said Akhilesh Yadav, adding, "Well the sweeping is done, we are waiting for the photos."
People, Mr Yadav said, dream of having photos clicked at the Taj Mahal, built by Mughal ruler Shah Jahan in memory of his wife Mumtaz Mahal and called the monument of love. He had visited the Taj over two years ago when he was chief minister, with his wife and lawmaker Dimple Yadav. It was Valentine's Day and they had posed for pictures on the benches in front of the monument as lakhs of tourists do every year.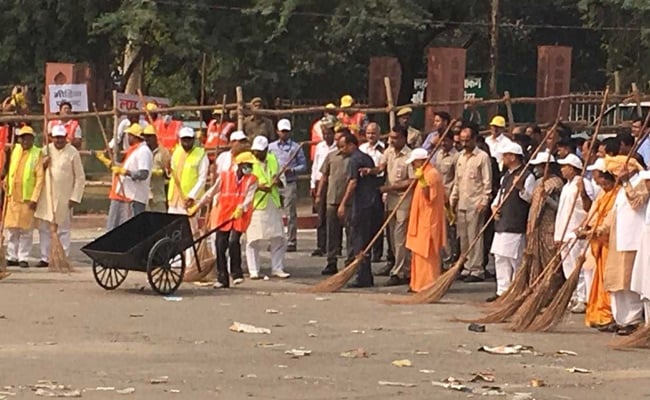 Akhilesh Yadav is a Taj Mahal fan. Earlier this month, the Yadavs visited the Taj on Sharad Poornima, when the moon is said to be especially luminous. He had said then, "As far as we Samajwadis are concerned, all I can say is that the Taj Mahal gives jobs and employment to a large number of people. Business also thrives."
This morning the former chief minister tweeted a black and white picture of the monument with a couplet that translates to - "The Taj standing on the banks of the river Yamuna says, I am a monument to love, do keep visiting."
Today's visit, Yogi Adityanath's first since he became chief minister in March this year, was also the first by a BJP chief minister. Yogi Adityantah had on a previous trip to Agra in May, skipped the Taj Mahal. In June he suggested that foreign dignitaries not be presented with replicas of the Taj as it "does not reflect Indian culture."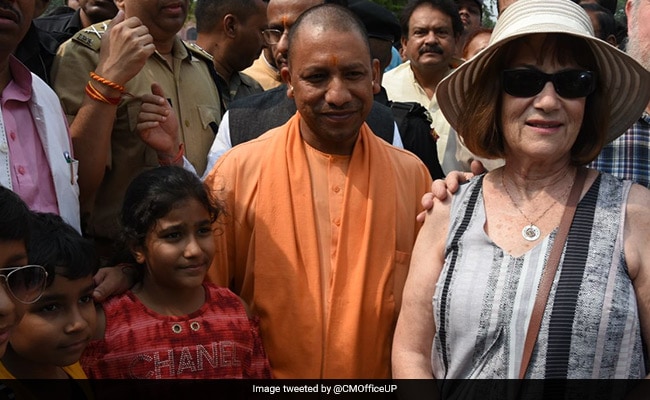 Leaders of his party took a cue and have attacked the Taj Mahal alleging it was built by "traitors" and that a temple was demolished to build it where it stands now. The chief minister has faced criticism especially after the UP government released a tourism brochure that did not list the Taj Mahal among the highlights in the state.
Since then, in what is seen as damage control, the UP government has announced it will spend Rs 370 crore on development plans aimed at promoting tourism in Agra, the city of the Taj. At a recent rally in his home town Gorakhpur, Yogi Adityanath called the Taj Mahal the "pride of India" and a "world class monument". He also said, "it was built by the sons of Bharat Mata. It was built by the blood and sweat of Indian labourers."
Today, the chief minister wore a yellow mask and gloves and a baseball cap as he swept a parking lot along with 500 BJP workers. He later also visited the graves of Shah Jahan and Mumtaz Mahal at the Taj Mahal.
Follow NDTV for latest election news and live coverage of assembly elections 2019 in Maharashtra and Haryana.
Subscribe to our YouTube channel, like us on Facebook or follow us on Twitter and Instagram for latest news and live news updates.