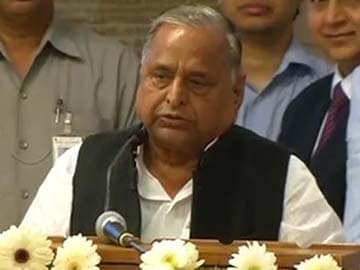 Lucknow:
We were working on profiling the now VVIP constituency - Lucknow. A short interaction with the man who has brought the spotlight on Lucknow - BJP candidate Rajnath Singh - was recorded and done. Next on the agenda was a
nukkad baithak
or street corner meet by Samajwadi Party candidate, veteran leader Ashok Bajpai.
Bajpai is an old Mulayam Singh associate. He has been a cabinet minister four times and and state minister twice in Mulayam Singh governments. A PhD in public administration, Mr Bajpai was nominated as SP candidate for Lucknow 16 months ago.
When we reached the venue of the public meeting in Aliganj, a large crowd of SP workers was already there. All around Bajpai smiled down from big hoardings and posters - appealing for votes.
Slogans rent the air - "Lucknow
ka sansad kaisa ho
, Ashok Bajpai
jaisa ho
. (Ashok Bajpayee should be Lucknow MP)"
We waited for Bajpai to arrive. We had fixed a rendezvous.
Suddenly, local SP workers went into a huddle. Netas whispered to the cadres. When they broke the huddle, the chant changed. "Lucknow
ka sansad kaisa ho
. Abhishek Mishra
jaisa ho
. (Abhishek Mishra should be Lucknow MP)."
Stumped, we rushed to Mr Bajpai's campaign manager to ask why the slogan had changed mid-step. He whispered, "The candidate has been changed. Bajpai is out, Mishra is in."
Abhishek Mishra is a 37-year-old ex-IIM Ahmedabad faculty member and a PhD from Cambridge who joined politics only a few years ago. Mishra won the Lucknow north seat in the 2012 Uttar Pradesh assembly polls and was inducted as a minister of state in Chief Minister Akhilesh Yadav's office.
To us at Aliganj it soon became clear that Mr Bajpai, an SP general secretary, now had no reason to attend the rally. So we drove down to the SP headquarters on Lucknow's Vikramaditya Marg.
Bajpai was leaving. His black Mahindra XUV had the tell tale signs of a man who had been a Lok Sabha candidate till 60 minutes ago. Marigold flowers were heaped on the vehicle's roof, there were SP campaign stickers on the sides. He saw our camera, but the usually media friendly Bajpai just rolled the window up and left.
Soon the party's second in command and Mulayam Singh's brother Shivpal Yadav announced the switch. The reason - Mishra is young and represents the new face of the party and its "pro-development image."
A Samajwadi Party leader quipped, "Bajpai campaigned for 16 months but won't be around for the May 16 counting."
Barely a kilometre away, at Rajnath Singh's home-cum-constituency-base, the news of Bajpai's exit was received with glee.
"The contest just got easier," exclaimed a Rajnath Singh aide.
We mused. Why did the SP change its candidate after Rajnath hit the campaign trail in Lucknow. Why a candidate less likely to give the BJP president a hard time? Is there an "un-negotiated" understanding between the SP and the BJP
Not fielding strong candidates against top guns from rival parties is an old convention. That ensures they are not tied down to campaigning hard for themselves; they can criss-cross the country leaving their constituencies in the hands of loyal aides.
But in this election, the convention seems to be changing. The Congress has fielded Capt Amrinder Singh against Arun Jaitley in Amritsar, Punjab. Madhusudan Mistry against Narendra Modi from Vadodra.
Did the SP do this in expectation of a quid pro quo in seats that the Yadav family contests?
The BJP and SP strongly deny "a deal". But this is not the first time this has happened in Lucknow. In 2009, the Mulayam Singh proposed fielding actor Sanjay Dutt in the UP capital. But Dutt was dropped soon and actor and social activist Nafisa Ali stepped in. BJP candidate Lalji Tandon, sweating over Dutt's proposed candidacy, won the seat easily with Ms Ali in the fray.