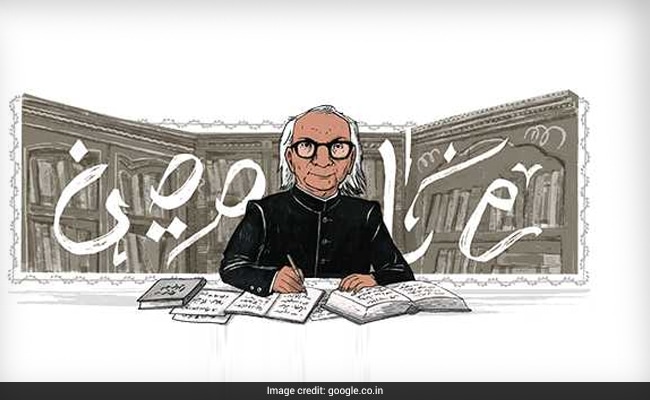 New Delhi:
Google has, in the past, honored Indian stalwarts from various fields with a doodle and in the process has made us wiser and more informed about important Indian political figures, academicians, writers, artists, sportsperson et al. Today, Google with its Doodle has honored Abdul Qavi Desnavi today with a doodle. Abdul Qavi Desnavi is an eminent figure in Urdu literature who was not just an Urdu writer but also a scholar, bibliographer, linguist and a beloved teacher.
Abdul Qavi Desnavi was born in a family of scholars. The famous Muslim Scholar Syed Sulaiman Nadvi who is known for his biography of the Islamic Prophet Muhammed, was his father's cousin. His father Syed Mohammed Saeed Raza was a Professor of Urdu, Arabic and Persian languages in St. Xavier's College, Mumbai.
Desnavi received his primary education in Arrah, a town in Bihar and then went on to complete his graduation and post-graduation from St. Xavier's College, Mumbai where his father was a professor.
After his post-graduation, he joined the Urdu department Saifia Post Graduate College. He is credited as having taught many scholars, poets, and teachers of today. He also worked as the Additional Principal of Saifia Post Graduate College from 1983 to 1985. He also served as the Secretary of Madhya Pradesh Urdu Academy, Bhopal from 1991 to 1992.
Desnavi has, to his credit, many published works in Urdu including works on poets Iqbal and Ghalib, and Maulana Abul Kalam Azad. He was a well-known literary figure in Urdu circle in Bhopal and in India and mingled with the likes of Kaifi Azmi and Ali Sardar Zafri.
Click here for more
Education News