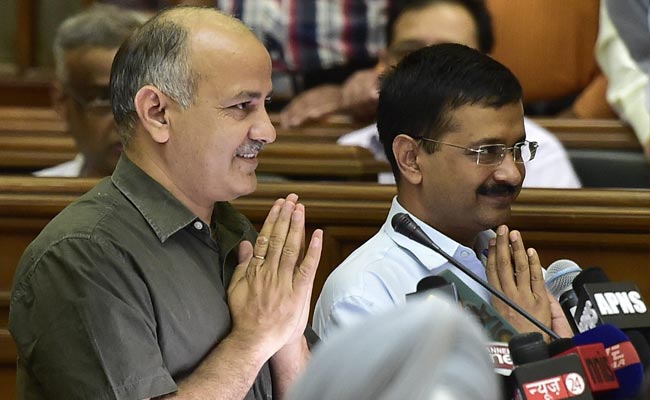 Highlights
Mr Kejriwal had accused the Centre of "snatching" services from him
Mr Kejriwal's 9-day protest garnered widespread support from opposition
The top court verdict demarcated the powers of LG and Delhi government
New Delhi:
Armed with green signal from the Supreme Court, Delhi Chief Minister Arvind Kejriwal today pushed ahead on pending governance issues. The items on agenda had triggered his last and worst clash with the Lieutenant Governor: The bureaucracy was told to fall in line with the top court's order and the process to begin doorstep delivery of rations was fast-tracked.
In a tweet in the afternoon, Mr Kejriwal said, "Cabinet meeting held.Directed all functionaries of Del govt to function according to the order of Hon'ble SC. Also directed to expedite proposals of doorstep delivery of rations and CCTV now."
The two issues were the ones on which Mr Kejriwal had started his nine-day sit-in protest at the house of the Lieutenant Governor last month, garnering widespread support from a swathe of opposition leaders in the process.
The bitter face-off came at the end of a long tussle with the Lieutenant Governor, whom Mr Kejriwal has repeatedly accused of hobbling his government on the directions of the Centre.
Today the top court gave a decisive verdict, demarcating the powers and responsibility of both the Lieutenant Governor and an elected government in Delhi. Beyond land, police and public order, the Lieutenant Governor has no independent decision-making powers, the court said. "Real power must lie with the elected government in a democracy. The state should enjoy freedom, unsolicited interference," said the three-judge bench led by Justice Dipak Misra.
In the afternoon, Mr Kejriwal's deputy Manish Sisodia held a press conference, where he declared that transfer of bureaucrats will now happen with the Chief Minister's approval. Transfers and appointments of officials was one of the first flashpoints between Mr Kejriwal's government and the Lieutenant Governor.
Mr Kejriwal accused the Centre of "snatching" services from the Delhi government and handing it to the Lieutenant Governor. He frequently complained that he could not appoint even a "peon" or transfer an officer of his government and said that bureaucrats didn't obey his government's orders as their cadre controlling authority was the Home Ministry.
Today, Mr Sisodia said, "IAS officers required the Lieutenant Governor's permission for posting. I have ordered that this will change. IAS officers, central services transfers will all happen based on Chief Minister's approval".
"Service matters are now with the Delhi government... the Centre, on its own, said there was a 4th reserved subject," Mr Sisodia said, adding that now, there also was no need to send files to the LG, which led to an interference or delay.