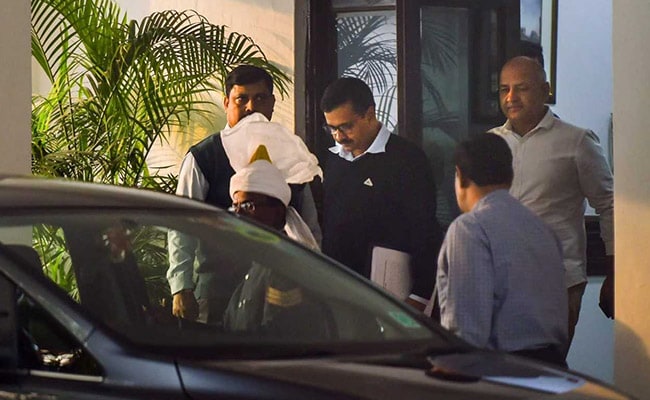 Highlights
Lt Governor met AAP leaders over assault on Delhi top official
Mr Kejriwal was advised to "remove mistrust" with government staffs
Chief Secretary Anshu Prakash was allegedly assaulted on Monday
New Delhi:
Chief Minister Arvind Kejriwal has been advised to "take steps to remove mistrust" with government employees so that Delhi's development activities are "not affected", Lieutenant Governor Anil Baijal said on Friday after he reportedly agreed to play peacemaker between the ruling Aam Aadmi Party and officials protesting the alleged assault on the city's top bureaucrat earlier this week.
This was the first meeting between Mr Kejriwal's team and Mr Baijal after the alleged assault triggered an unprecedented faceoff between the ruling Aam Aadmi Party government and Delhi bureaucrats.
At the meeting that reportedly lasted for no more than five minutes, the Lt Governor later tweeted that he had also "strongly condemned the recent unfortunate incidents" and underlined that there was "no place for violence in democracy".
Deputy Chief Minister Manish Sisodia, who later showered some rare praise on the Lt Governor for "looking at the entire episode" from the perspective of Delhi's governance and help resolve the standoff.
"We told him that officers were not taking phone calls, coming for meetings. We gave him a list of officers," Mr Sisodia said about the protests by the bureaucrats over the alleged assault.
Mr Sisodia said the Lt Governor had agreed to speak with the officials and "ensure that work is not affected and they work with ministers."
Government officials in Delhi have refused to attend meetings called by ministers after the city government's top bureaucrat Anshu Prakash alleged he was assaulted by two lawmakers at a midnight meeting convened by Chief Minister Kejriwal on Monday.
Mr Prakash also filed a police complaint about the assault that implied Mr Kejriwal's involvement in the conspiracy to beat him. AAP leaders had claimed that the false allegations were levelled at the elected government at the behest of the BJP government at the centre and its nominee, Mr Baijal.
The officials had demanded that the chief minister should "admit" that the assault did take place and then, apologise to the bureaucrat.
There has been no formal reaction from the IAS officers association, which had declared the officials would resume attending meetings only after an apology.
But it appears unlikely that the bureaucrats would disregard any direction from the Lt Governor, who for all practical purposes is their boss.