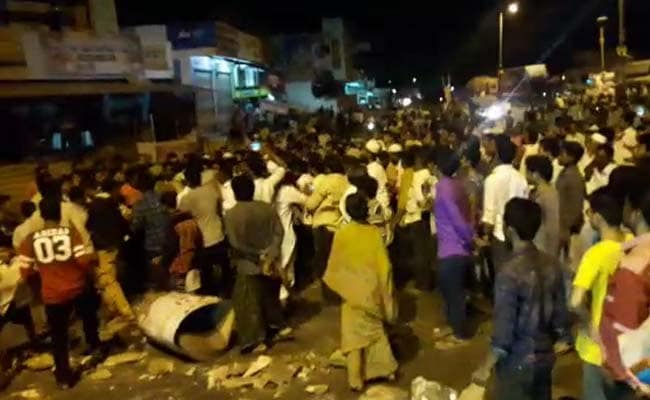 Guntur, Andhra Pradesh:
Dachepalli in Andhra Pradesh is boiling over with anger and grief. After a nine-year-old was sexually assaulted allegedly by a 60-year-old neighbour, the entire neighbourhood it would seem, came on to the streets demanding that the accused should be immediately arrested. Some demanded instant justice: he should be hanged or shot dead in public, they screamed.

The police have had a tough 24 hours trying to keep people's emotions and actions under control. Last night, they were witness to protestors spilling on to the state highway and blocking traffic for nearly six hours, till 4 this morning. The traffic jam was as long as 18 km.

Today, an unofficial bandh was called. Shopkeepers downed shutters and came on to the streets too. The nine-year-old girl and the accused belong to different communities. But the protests were not happening on community lines. Everyone stood demanding justice for the child.

"Everyone is disturbed and upset. So there were people from all communities demanding justice for the child," said Guntur collector Kona Shashidhar to NDTV.

Special police forces were deployed but that did not stop angry youngsters from trying to bring down the roof of the home of the accused, Subbaiah, a rickshaw puller.


The child had been lured by offering her toffees and chocolate and was taken away and raped. She was dropped back after a clear threat that she would be killed if she told anyone.
The child's mother saw her bleeding and the girl complained of severe pain. She was taken to a doctor who saw the injuries and said the child had suffered a sexual assault. Locals who gathered at the hospital saw the condition of the child, who in fact fainted with all the bleeding and had to be stitched. They spilled on to the streets, raising slogans and asking for justice.
"We have deployed special teams to nab the accused," Guntur district SP Appala Naidu told NDTV. He is worried that if the man is found by angry protestors, they may decide to dispense 'justice' themselves. The son of the accused was beaten up by the crowd and had to be rescued by the police.
Today protestors vandalised buses and also stopped trains by sitting on a protest dharna on railway track. A goods train at Nadukudi was stopped, so was Sabari Express that runs between Hyderabad and Thiruvananthapuram.