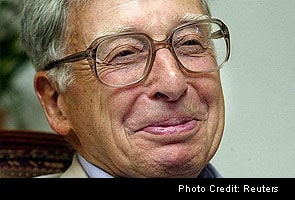 Robert G Edwards, who opened a new era in medicine when he joined a colleague in developing in vitro fertilization, enabling millions of infertile couples to bring children into the world and women to have babies even in menopause, died Wednesday at his home near Cambridge, England. Edwards, who was awarded the Nobel Prize for his breakthrough, was 87.
The University of Cambridge, where he worked for many years, announced his death. Edwards was known to have dementia and was said to have been unable to appreciate the tribute when he was awarded the Nobel Prize for Physiology or Medicine in 2010.
A flamboyant and colorful physiologist who courted the press and vigorously debated his critics, Edwards and his colleague in the effort, Patrick Steptoe, essentially changed the rules for how people can come into the world. Conception was now possible outside the body - in a petri dish.
The technique has resulted in the births of 5 million babies, according to the International Committee Monitoring Assisted Reproductive Technologies, an independent nonprofit group.
Yet, like so many pioneers of science, the two men achieved what they did in the face of a skeptical establishment and choruses of critics, some of whom found the idea of a "test tube baby" morally repugnant. Denied government support, the men resorted to private financing. And they did their work in virtual seclusion, in a tiny windowless laboratory at a small, out-of-the-way English hospital outside Manchester.
It was there, after outwitting a crowd of reporters, that they delivered their - and the world's - first IVF baby, Louise Brown, on July 25, 1978. Her parents, John and Lesley Brown, had tried for nine years to have a child - a period that virtually coincided with Edwards' research.
He first had the idea for in vitro fertilization in the 1950s, and after beginning his research in earnest in the late 1960s, he stayed with it for nine years, through trial and error, disappointment and triumph.
Several times a week he drove three to four hours from his academic office in Cambridge to pursue the work at Oldham General Hospital (now the Royal Oldham Hospital). It was there that he and Steptoe finally succeeded in fertilizing an egg, growing it briefly in a petri dish, and transferring it to a woman's uterus to produce a baby.
Steptoe, who died in 1988, did not receive a share of the Nobel because the prizes are not awarded posthumously.
Edwards' motivation - his passion, in fact - was not fame or fortune but rather helping infertile women, said Barry Bavister, a retired reproductive biologist who worked with Edwards.
"He believed with all his heart that it was the right thing to do," Bavister said.
During the frustrating years before that first IVF birth, Edwards was undaunted by critics who said he might be creating babies with birth defects - undaunted even by the qualms of some of his own graduate students. One, Martin Johnson, wrote that he and a fellow graduate student, Richard Gardner, "were very unsure about whether what Bob was doing was appropriate, and we didn't want to get too involved in it."
Johnson added that when he saw "bigwigs of the subject" who were "lambasting into Bob" and telling him not to continue, "you had to say: 'Well, what's going on here? Can one man be right against this weight of authoritative opinion?"'
In 1971 Edwards' application for research support from the British government was turned down, in part because a committee reviewing his application thought it would be more prudent to perfect the method in nonhuman primates before jumping to humans.
And then there was Edwards' personality. Committee members wrote that they were uncomfortable with his "tendency to seek publicity in the press, television and so on."
Finally, the committee thought that the hospital where Edwards and Steptoe worked was insufficiently equipped.
The two men resorted to obtaining private funds and continued their work.
In a paper published a decade ago in Nature Medicine, Edwards explained that he first got the idea for human IVF when he was a Ph.D. student at Edinburgh University. He was working with mouse embryos and testing hormone preparations that induced female mice to ovulate. Years later, he asked gynecologists if they would give him ovarian tissue that they had removed from patients for other reasons. Edwards sought to induce the eggs in the tissue to mature. Then he would fertilize them and transfer them to infertile women to produce pregnancies.
"Some gynecologists approached about this project candidly responded that they thought the idea preposterous," Edwards wrote. But one, Dr. Molly Rose, who had delivered two of Edwards' five daughters, said she would do it.
The immature eggs, though, would not mature. Edwards had assumed it took 12 hours for the process; that was what another research group had said. He finally succeeded, he wrote in 1972, when, "after two disappointing years," he let the eggs grow for as long as 25 hours. Then, he wrote, "a joy unbounding," the eggs matured.
What followed, however, was failure after failure to achieve the steps needed for an actual pregnancy.
The first hurdle was trying to get a human egg to be fertilized by human sperm in the lab. Edwards tried repeatedly for several years, to no avail. Meanwhile, Bavister, working next door to Edwards' lab, had developed a solution to nourish hamster sperm while he fertilized hamster eggs.
"One day," Bavister recalled, "Bob said, 'Barry, why don't we try your hamster medium with human eggs?"' It worked. Bavister said he could still recall his first glimpse of that fertilized human egg in the microscope. "It was unbelievable, like 'Eureka!"' he said.
The problem, it turned out, was that the solutions Edwards had been trying were too acidic. The hamster egg solution was slightly less acidic, which allowed sperm to burrow into the egg.
The next step was to get the embryos to start to grow and divide in a petri dish so that they could be transferred to a woman's uterus.
Many did not develop, and those that did did not survive long. Even after Edwards and Steptoe managed to get the eggs to grow to the point where they could be transferred, no pregnancies resulted. They made over 100 attempts, but no woman got pregnant, except one, who had an ectopic pregnancy, with the embryo in her fallopian tube instead of her uterus.
"Most sensible scientists would have given up," Bavister said. "But they plugged on and plugged on."
Dr. Joseph Schulman, an American physician who later founded the Genetics and IVF Institute in Fairfax, Va., worked with Edwards and Steptoe in 1973 and 1974 and wrote of those frustrating times:
"Although we tried week after week though most of the winter and spring, with one, two, or three infertile patients a week, no pregnancy resulted. We extensively debated the causes of failure, of which the informed scientific imagination would provide many."
Edwards, "never the most patient of men, was becoming increasingly irritable," Schulman wrote.
It still is not clear why it took so long to achieve success, Schulman said. Edwards decided that it was a hormone he was giving women to induce ovulation that was making the uterus inhospitable. He elected to do without the drug and rely instead on the one egg that a woman naturally produced each month.
There were only three remaining patients. Steptoe could not retrieve any eggs from the first two. One woman did not get pregnant. Another had a tubal pregnancy that could not be carried to term. Then he tried his method with Brown.
The night Brown was to give birth to the world's first IVF baby, the press descended on the Oldham hospital. Edwards left the hospital that afternoon and told reporters that nothing was happening yet and that they could go home. He and Steptoe sneaked in the back entrance that night, and Steptoe delivered the baby by cesarean.
It was Steptoe's decision to do a cesarean, Bavister said, adding, "If the baby was abnormal, they sure did not want the press in the delivery room," he said.
In fact, he said, if the baby had been abnormal, that would have spelled the end of IVF. The method had succeeded only with rabbits at that point, so it was a huge leap of faith for Edwards and Steptoe to try it with humans.
After the birth of Louise Brown, Edwards was triumphant. He and Steptoe founded an IVF center, Bourn Hall in Cambridge, where he served as research director.
The Roman Catholic Church denounced the award, arguing that human life should begin only through intercourse and not artificially. The Vatican said Edwards "bore a moral responsibility for all subsequent developments in assisted reproduction technology and for all abuses made possible by IVF."
In 2011, Edwards was knighted by Queen Elizabeth II "for services to human reproductive biology."
Robert Geoffrey Edwards was born into a working-class family in Batley, Yorkshire, on Sept. 27, 1925. He joined the British military during World War II, then studied biology at the University of Wales in Bangor. He received a Ph.D. in physiology in 1955 from Edinburgh University in Scotland.
He is survived by his wife, Ruth Edwards, along with their five daughters and 12 grandchildren, Cambridge said.
Bavister said the most moving tribute to Edwards was in a message posted on the Nobel website after Edwards received the prize. It was from a man who had been born through IVF, and it said, "Dr. Edwards, thank you for my life."
© 2013, The New York Times News Service