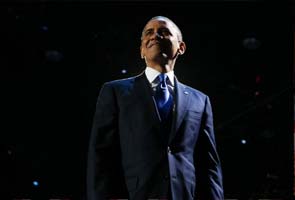 Prominent world leaders congratulated Barack Obama after he won the United States 2012 Presidential election on Tuesday.
Obama swept to re-election making history by overcoming a slow economic recovery and the high unemployment which haunted his first term to beat Republican Mitt Romney.
British Prime Minister David Cameron congratulates his 'friend':
British Prime Minster David Cameron on his Twitter account wrote: "Warm congratulations to my friend @BarackObama. Look forward to continuing to work together."
EU president Van Rompuy expresses joy at Obama's re-election:
"Very happy about the reelection of President Obama," Van Rompuy wrote in Dutch on his Twitter account.
European Commission President Jose Manuel Barroso:
"The United States is a key strategic partner of the European Union and we look forward to continuing the close cooperation established with President Obama over these last four years, to further strengthening our bilateral ties and to jointly addressing global challenges, including in the fields of security and economy," they said.
They also "look forward to meeting President Obama at an early date in order to reconfirm our priorities and provide renewed impetus to our joint action".
Israel congratulates Obama on re-election
Israel Prime Minister Benjamin Netanyahu congratulated Mr Obama and said ties between their two countries were "stronger than ever".
"The security relationship between the United States and Israel is rock solid, and I look forward to working with President Obama to further strengthen this relationship. I look forward to working with him to advance our goals of peace and security," Mr Netanyahu said in a statement.
Canadian premier congratulates Obama on re-election
Canadian Prime Minister Stephen Harper said Canada and the United States "enjoy one of the closest and most extensive relationships in the world," adding that over the years he and Obama "have worked on several important bilateral initiatives to generate jobs and growth in both our countries."
"I look forward to working with the Obama administration over the next four years to continue finding ways to increase trade and investment flows between our countries," he added.
Chinese leaders congratulate Obama:
"President Hu Jintao and Premier Wen Jiabao sent messages of congratulations to President Obama on his being re-elected president of the United States," Chinese foreign ministry spokesman Hong Lei said.
Dalai Lama seeks Obama help on Tibet

Tibetan spiritual leader the Dalai Lama congratulated Mr Obama and hoped his administration would take steps to find a way to stop the series of self-immolations in Tibet.
"I am very appreciative of your support for our middle-way approach, which I continue to believe is the best way for us to ensure a solution that is beneficial for both the Tibetans and the Chinese," he said.