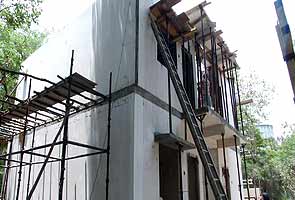 Chennai:
Imagine a 500-square foot flat that costs about six lakhs.
The cheap and eco-friendly house has been designed by the Indian Institute of Technology (IIT) Madras which hopes it has delivered a model for housing projects that can be used by the government for the poor.
"We hope it will be a game changer in addressing the housing shortage," said Devdas Menon, a professor at IIT. The university has offered to train builders in copying its model.
The house has been set up for display on campus. Instead of bricks, the flat is made of gypsum reinforced with glass fibre. The housing technology costs just Rs 1250 per square foot. Ceilings, floor and staircase made using this don't require plastering.
The big advantage of the technology, its developers say, is the time it saves. A 500 square foot flat with two bedrooms, a hall and a kitchen can be assembled in just a month.
Professor Bhaskar Ramamurthi, Director of IIT Madras, say houses built using this technology are also earthquake resistant. "We have not compromised on anything. These structures are as sturdy and long lasting as any building built today. The designs have been approved," he said.
Professor Menon adds that the fact that Gypsum is an industrial waste material that is easily available is a big advantage. "The fertiliser industry waste itself is around 40 million tonnes, building up annually and there are many other sources of gypsum. I think for a long time we can sustain with this kind of construction. We are already talking to potential private sector builders. What we need is large number of plants all over the country and trained workers to correctly build it and we hope to provide that support. We hope this would be game changer addressing the tremendous housing shortage".
The technology can be used for buildings up to ten floors. Presently, a plant at Cochin manufactures the pre-fabricated structures.
IIT Madras spent 10 years researching and finessing Australian technology on which its house is founded.