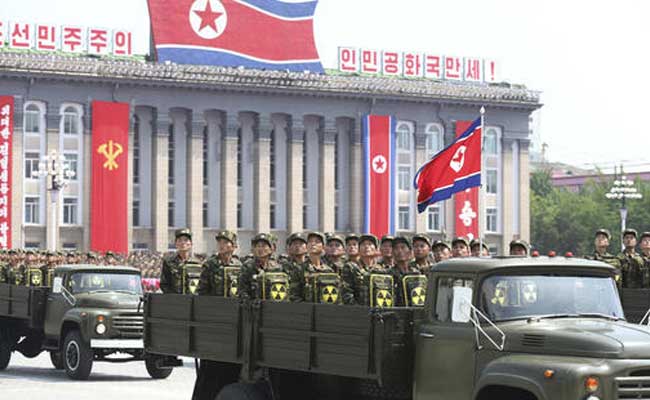 Over the past 10 months, the young ruler of North Korea has ordered an unprecedented torrent of weapons tests, forging an increasingly sophisticated arsenal. There have been truck-launched missile tests, two nuclear explosions, experiments with powerful rocket engines and more than a dozen other major missile trials.
But why the rush now, after so many years of a North Korean weapons program that progressed relatively slowly?
It's all about Nov. 8, and the US presidential elections, according to a growing number of experts who study North Korea.
"It's clearly targeted toward the next administration, and wanting to demonstrate they are a nuclear weapons state to the new president," said Victor Cha, the head of Asian affairs at the National Security Council during the George W. Bush administration, and now a professor at Georgetown University. "Whether that is for the purposes of negotiation, or to say, 'You better leave us alone,' no one knows for sure."
From the perspective of Pyongyang, President Barack Obama already looks like a lame duck. While the US has pressed for more sanctions on North Korea in the wake of all the testing, and now plans to install a sophisticated missile defense system in South Korea, there are few worries in the North that Obama would risk a dramatic move now, like a military strike against its nuclear facilities. Even after the elections, the next president will need at least a few months after the swearing-in to set the administration's diplomatic, military and intelligence agendas.
To Pyongyang, that means time to build up its arsenal, putting it in a powerful position by the time the new US president has settled into office.
North Korea is now "fully equipped with nuclear attack capability," leader Kim Jong Un announced proudly after the August launch of a submarine-launched missile.
He was exaggerating, but not by much. The strings of tests indicate that North Korea may have medium-range missiles capable of striking American military bases in the Pacific in the next couple years, experts say. Some believe Pyongyang may be able to hit the western United States as early as 2020.
For some in the North Korea-watching world, Pyongyang's objective with the weapons tests is clear.
"North Korea thinks there will be one chance with the next (US) government," said Sangsoo Lee, a researcher focusing on East Asia with the Institute for Security and Development Policy, a Stockholm-based research group. "Every government has their ambitious goals, and if the next government solves the sticky North Korea nuclear issue, then it's huge, a big achievement."
"I don't know if it will succeed or not," he continued. "But North Korea expects this one chance and they will use it."
North Korea has a long track record of provocative moves, such as nuclear and missile tests, around elections in both the U.S. and South Korea.
For years, North Korea's nuclear program had been seen by most diplomats, scholars and government officials as more of a bargaining chip than a military tool, a way for Pyongyang to pressure the outside world into offering it international legitimacy, promises of non-aggression or billions of dollars in aid. Few experts worried that Pyongyang posed a near-term danger to mainland America.
But under Kim Jong Un, who rose to power following his father's death in 2011, North Korea has seen steady progress in its nuclear and missile programs. Kim has overseen three nuclear tests, including two this year. There have been repeated tests of the Musudan, a medium-range ballistic missile with a range of 2,500 to 4,000 kilometers (1,500 to 2,500 miles), far enough to reach all of Japan and South Korea and, at the outer end, US military bases in Guam.
Today, while North Korea remains unable to hit the continental US, most experts see that possible in just a few years.
"I think that they're struggling with getting the (intercontinental ballistic missile) program up and operational," US Gen. Vincent Brooks, now the head of US forces in Korea, said in Senate hearings earlier this year. But "over time, I believe we're going to see them acquire these capabilities if they're not stopped."
Euan Graham, a former charge d'affaires at the British Embassy in Pyongyang, and now an international security researcher based at the Lowy Institute for International Policy in Sydney, said that while the US elections are part of Pyongyang's calculations, he believes the flurry of testing is driven now by the successes of its program.
"They're so close to acquiring the holy grail: a miniaturized (nuclear) device and a missile they can loft it on," he said.
Pyongyang is believed to have made progress on many of its goals, including shrinking nuclear explosives so they can fit on missiles, improving its rocket technology and mastering the re-entry science required so ICBMs can re-enter Earth's atmosphere from space.
"Ultimately, what they want is to reach a deal with the US to have recognition as a nuclear weapons state," Graham said.
US officials have said - loudly and repeatedly - that North Korea will never get that recognition. But once Pyongyang has a nuclear missile that can strike the US mainland, it will be more difficult to deny Pyongyang that status.
North Korea has said little directly about the US elections. But last month, a Japan-based newspaper closely tied to North Korea warned that Pyongyang would not slow its weapons program, saying it "will be pursued to the ends without the slightest hesitation."
Chosun Sinbo added that it was already clear what the biggest security issue would be for the next US president: North Korea's nuclear weapons.
(This story has not been edited by NDTV staff and is auto-generated from a syndicated feed.)