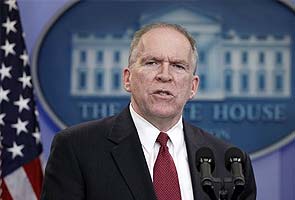 Washington:
John Brennan, who President Barack Obama is poised to pick to lead the CIA after the fall of David Petraeus, is an agency veteran who spent the last four years devising White House counterterrorism strategy.
Brennan, a 25-year Central Intelligence Agency veteran, is an Arabic-speaking Middle East expert who once told reporters when asked about his work ethic: "I don't do down time."
Brennan, 57, may have lost out on the top spot at the CIA in 2009 over his support for the use of certain "enhanced interrogation techniques" under the administration of George W. Bush -- an issue sure to come up at his confirmation hearing.
His appointment as deputy national security adviser for homeland security and counter-terrorism in 2009 did not require Senate confirmation and thus sidestepped congressional scrutiny.
Trained as a spy, Brennan rose quickly as a counter-terrorism analyst and manager in the Near East and South Asia branch of the agency's intelligence directorate.
By 1995, he was executive assistant to George Tenet, the agency's deputy director at the time who later became the agency's longest-serving director.
Brennan moved on to become a CIA Middle East station chief in 1996, returning to Washington in 1999 to be Tenet's chief of staff until 2001 and CIA deputy executive director through 2003.
He capped a 25-year CIA career by becoming the interim director of the National Counter-Terrorism Center from 2004 to August 2005.
During those years, Brennan witnessed firsthand the struggles between the CIA and the White House over pre-war intelligence on Iraq's weapons of mass destruction and the Saddam Hussein regime's links to terrorism.
Brennan then left government for a few years, working in the area of defense and security consulting before accepting Obama's offer to become his counterterrorism czar.
In 2009, liberal bloggers zeroed in on statements he had made in interviews defending the CIA's use of "enhanced interrogation techniques."
He said waterboarding, a form of simulated drowning widely regarded as torture, was inconsistent with American values and should be prohibited.
But in a November 2007 interview with CBS television, Brennan said enhanced interrogation techniques had produced information that the CIA has used against "real hardcore terrorists."
"It has saved lives. And let's not forget, these are hardened terrorists who have been responsible for 9/11, who have shown no remorse at all for the deaths of 3,000 innocents," he said.
In other interviews, Brennan has defended the practice of turning detainees over to foreign intelligence agencies for interrogation, rejecting charges that the program aims to avoid US anti-torture laws.
As for warrantless wire-tapping, he has said a balance needs to be drawn between the need to protect citizens and their right to privacy, adding that a public debate should take place over where that line should be drawn.
As Obama's counter-terrorism adviser, Brennan has labored to create a "playbook" on the White House's policy on targeted killings, including its legal justification for acting on suspects in Yemen, Pakistan and elsewhere.
"What we're trying to do right now is to have a set of standards, a set of criteria, and have a decision-making process that will govern our counterterrorism actions," Brennan told the Washington Post last year.