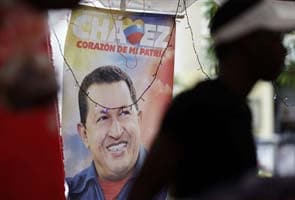 Caracas, Venezuela:
The head of Venezuela's national assembly has flown to Cuba to join the vice president and other members of the government at the bedside of ailing President Hugo Chavez, a local paper reported.
Diosdado Cabello "traveled on Wednesday afternoon to Havana," the pro-government Ultimas Noticias reported. "It is unknown what agenda brought Cabello to make the visit."
The Cuban capital has become the hub for decisions about the future of Venezuela's government, with the January 10 date for Chavez's planned inauguration fast approaching.
The Venezuelan constitution calls for new elections within 30 days if the president-elect is unable to take the oath of office.
And, under the constitution, in this situation, the president of the parliament becomes interim president.
The government has given only sketchy information about Chavez's battle with cancer since the disease was first detected by Cuban doctors in June 2011, and has not even identified which type of cancer has been diagnosed.
In an update on Wednesday, Chavez's son-in-law Jorge Arreaza, the country's minister of science and technology, said in a tweet that the president's condition was "stable" but still delicate.
But, more than three weeks after Chavez underwent a fourth round of cancer surgery in Havana, the leftist government faced mounting pressure to put in place an orderly succession process.
The government delegation in Havana has included, in addition to Maduro and Arreaza, attorney general Cilia Flores; Chavez's brother and governor of a western state, Adan Chavez.
Caballo could be re-elected as the head of the legislature next Saturday by the Chavista majority.