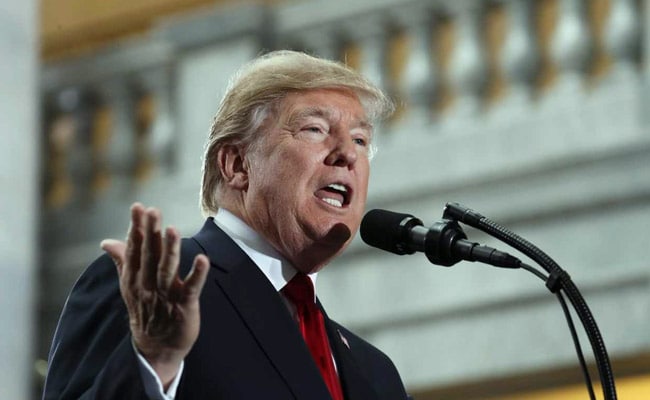 There is a small constituency in the United States that genuinely cares about the location of the American embassy in Israel. Evangelicals and a right-wing, pro-Israel lobby thrilled at President Trump's campaign promises to reverse decades of U.S. policy by recognizing a "united" Jerusalem as Israel's capital and shifting the U.S. Embassy there from Tel Aviv. At a speech on Wednesday, Trump is expected to outline his plans to do just that.
While that is happy news for some of his core supporters - as well as the right-wing government of Israeli Prime Minister Benjamin Netanyahu - the proposed move risks starting new fires in the Middle East and attracting the fury of the international community.
Jerusalem, holy to all three Abrahamic faiths, is at the heart of the territorial conflict between Israelis and Palestinians. Israel sees the city as its undivided capital, while the Palestinians consider majority-Arab East Jerusalem to be the future seat of an independent Palestine. No country keeps its embassy there, and the long-standing U.S. position has been that Jerusalem's final status would be determined only as part of a lasting peace deal.
Now, it seems, Trump is set to reverse that order - though not decisively. The president may both officially recognize Jerusalem as Israel's capital and do what his predecessors have done for two decades: sign a waiver that comes up twice a year deferring any shift of the U.S. Embassy from Tel Aviv.
The confused maneuver would create a "situation that leaves us in a half-pregnant state," Dan Shapiro, a U.S. ambassador to Israel under the Obama administration, told The Post. "It creates big controversy for little gain. Our broader goal of achieving two states is not advanced, and what this achieves for either side is unclear."
In recent days, Trump spoke by phone with Palestinian Authority President Mahmoud Abbas, King Abdullah II of Jordan and King Salman of Saudi Arabia, briefing them on his plans regarding Jerusalem. No one seems to have taken the news very well.
Joyce Karamn tweeted "Countries/orgs that have warned #Trump against #Jerusalem move: Jordan, France, Turkey, UAE, Saudi Arabia, Egypt, Qatar, Palestine, Morocco, Kuwait, Germany, Arab League, Iraq, Azhar"
"Mr. Trump told our president he was going to move the embassy from Tel Aviv to Jerusalem," Nabil Shaath, an adviser to Abbas, said in an article by my colleagues David Nakamura, Loveday Morris and Anne Gearan. They report that Trump told Abbas that the United States would make future moves that he thought would please the Palestinian people, although he did not offer details. "Our president said, 'You don't have anything that would make up for this on Jerusalem.' He said, 'Definitely, we will not accept it,' " Shaath said.
Meanwhile, Arab governments that have been friendly to Trump issued stern warnings. "King Abdullah stressed that the adoption of this resolution will have serious implications for security and stability in the Middle East, and will undermine the efforts of the American administration to resume the peace process and fuel the feelings of Muslims and Christians," a statement from Amman read.
According to the Saudi Press Agency, King Salman told the White House that a recognition of Jerusalem as Israel's capital "would constitute a flagrant provocation of Muslims, all over the world." The Organization of Islamic Cooperation, a body that represents 57 majority-Muslim nations, urged the United States "not to be swayed and aligned with the Israeli occupation and imperialism."
Palestinian factions have announced three "days of rage," starting Wednesday, in protest of a potential embassy move. They see a recognition of an "undivided" Jerusalem as the Israeli capital as a tacit acceptance of the continued Israeli military occupation of the Palestinian territories, including East Jerusalem. The U.S. Consulate in Jerusalem warned U.S. nationals and government employees of potential threats to their safety, and Palestinians burned effigies of Trump in the city of Bethlehem on Tuesday night.
"A decision such as this is both morally wrong and politically dangerous," Yousef Munayyer, executive director of the U.S. Campaign for Palestinian Rights, told us. "Not only is Donald Trump deliberately insulting the Palestinian people, but also Arabs and Muslims around the world. In doing so, he is relinquishing what little credibility the United States had left in a region that is already rife with conflict and division."
Ayman Odeh, an Arab Israeli lawmaker and head of the third-largest bloc in Israel's parliament, was even more blunt. "Trump is a pyromaniac who could set the region on fire with his madness," he wrote on Twitter.
Shapiro, the former U.S. ambassador, contends that there is theoretically no harm in moving the U.S. Embassy to West Jerusalem - provided, first, that Trump makes clear that East Jerusalem has a different status and, second, that he conducts "a lot of preparatory diplomacy and consultation." Trump would need to consult with Arab officials in particular to minimize backlash and keep Palestinian officials willing to negotiate.
But Trump's decision has reportedly taken Arab leaders largely by surprise, raising questions about the White Houses ultimate strategy and intentions. It also calls into question the future of the administration's effort to restart the peace process. "The United States has attempted to shepherd the so-called 'peace process' on the basis that it can play the role of mediator. But by clearly adopting an Israeli position as its own, it makes clear it is not even pretending anymore," Munayyer said.
The administration could be banking on a changing environment in the Middle East, with the region fractured by the Saudi-Iranian rivalry and Israel developing closer ties with a host of Arab states, including Saudi Arabia. But that may prove to be a mistaken gambit.
"The move would go against the very priorities that the administration has set for itself in the Middle East: fighting Islamist militancy and confronting Iranian influence," wrote Shibley Telhami of the Brookings Institution. "Jerusalem is the perfect issue for Iran and Islamist militants to use to mobilize support against the United States and those who endorse its policies."
Over the weekend, the president's son-in-law and Middle East peace envoy, Jared Kushner, told a Washington gathering that Trump had not made a final decision on Jerusalem. "He's still looking at a lot of different facts. And then, when he makes his decision, he'll be the one to want to tell you, not me," Kushner said.
And if Trump does decide in favor of a move, Kushner's task may be simply impossible. "If you're about to launch a major peace plan," said Ilan Goldenberg of the Center for a New American Security, "the last thing you want to do is take this highly sensitive question of Jerusalem and just throw it into the mix."
(Except for the headline, this story has not been edited by NDTV staff and is published from a syndicated feed.)