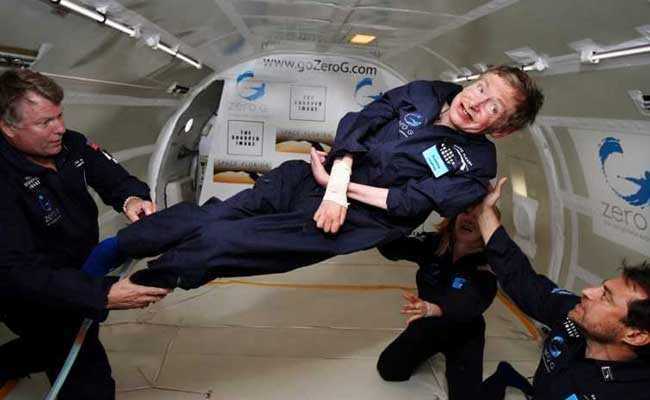 Washington:
Professor Stephen Hawking was a longtime friend to NASA, and a brilliant cosmologist and an inspiration to generations around the world, said the US space agency in honor of the acclaimed British physicist, who died a day ago.
Professor Hawking died early on Wednesday leaving millions across the globe in mourning. He was 76.
"Today, the world lost a giant among men, whose impact cannot be overstated," acting NASA Administrator Robert Lightfoot, said in a statement, late on Wednesday.
"Our condolences go out to the family and friends of Stephen Hawking.
"Along with groundbreaking and inspiring work came another attribute that made Stephen a hero not just to younger generations, but also to his peers.
"A longtime friend to NASA, Stephen was a passionate communicator who wanted to share the excitement of discovery with all."
"His loss is felt around the world by all he inspired with his work and his personal story of perseverance."
Professor Hawking's relationship with NASA spanned years.
In 2007, Professor Hawking took his first flight in micro gravity from NASA's Kennedy Spaceflight Centre. On April 21, 2008, Professor Hawking and his daughter Lucy delivered a lecture as part of NASA's 50th anniversary.
Speaking of the importance of human spaceflight, Professor Hawking concluded, "If the human race is to continue for another million years, we will have to boldly go where no one has gone before."
Astronauts Rick Mastracchio and Koichi Wakata aboard the International Space Station spoke with Professor Hawking during their 2014 mission.
A year later, he made a video congratulating the New Horizons team for their successful flyby of Pluto.
Sharing the video earlier on Wednesday on Twitter, NASA said: "Remembering Stephen Hawking, a renowned physicist and ambassador of science.
"His theories unlocked a universe of possibilities that we and the world are exploring. May you keep flying like superman in micro gravity, as you said to astronauts on @Space_Station in 2014"
"We explore because we are human, and we want to know," Professor Hawking had said in the video.
Professor Hawking's best known work found that black holes should glow, emitting what is now known as Hawking radiation.
"Although humanity has lost one of the most prominent cosmologists and astrophysicists of our time, his work and vision will last forever," said Thomas Zurbuchen, Associate Administrator of NASA's Science Mission Directorate at NASA Headquarters in Washington.
"His ability to communicate to the general public about the importance to study the universe and move science forward is a legacy that will endure to achieve greater heights to explore the solar system and beyond," Mr Zurbuchen added.