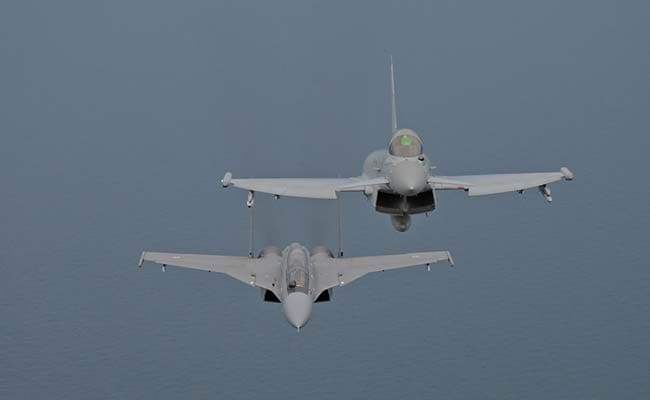 Cairo, Egypt:
Divided over the fate of President Bashar al-Assad, Arab countries have kept silent over Russian air strikes in Syria, apart from Cairo which openly supports Moscow's campaign, experts said.
"The Arab world has lacked regional leadership for years from within the region, and in that void, the US and Russia have been engaging," said H.A. Hellyer, Middle East policy expert at the Washington-based Brookings Center.
"There are some signs that some wish to change that from within the region, but the first example of leadership is being shown in the multilateral Arab intervention into the Yemen (conflict) and it is not a promising example at all," he said referring to a Saudi-led coalition against Shiite rebels backed by Iran, a regional heavyweight.
Moscow launched air strikes on Syria last week, but it has come under fire for raids on Western-backed moderate opponents of Assad instead of what it says are targets connected to terrorists of the Islamic State group.
US President Barack Obama has severely criticised Russia, saying its military campaign is only strengthening IS.
But Arab countries like Saudi Arabia and Qatar in a US-led coalition that has been carrying out strikes on IS since last year have so far refrained from making any statements other than one jointly issued by the US-led alliance urging Moscow to "immediately" halt the campaign and "focus" only on IS.
Divergent views
Just hours before Moscow unleashed its bombing campaign on Wednesday, Saudi Foreign Minister Adel al-Jubeir had insisted that "there is no place for Assad in the future of Syria".
But not all Arab regimes are against Russia's intervention in Syria.
Egypt, the world's biggest Sunni Arab country which boasts the region's largest and best-equipped military, welcomed the Russian campaign as a measure to fight terrorist groups like IS.
"We believe that the (Russian intervention) will impact the fight against terrorism in Syria and help eliminate it," Egyptian Foreign Minister Sameh Shukri said in New York on Saturday.
Relations between Cairo and Moscow have flourished in recent times, with President Abdel Fattah al-Sisi warming up to Russia after Egypt's ties with traditional ally Washington strained following the ouster of president Mohamed Morsi in 2013 by then army chief Sisi.
A government crackdown targeting Morsi supporters that left hundreds dead and tens of thousands jailed caused deep resentment in Washington, although this has waned in recent months.
"Russia is concerned by the resistance to terrorism and the purpose of its intervention is a fatal blow to terrorism in Syria, and its strikes are in line with those of the anti-Daesh coalition in Syria and Iraq" led by Washington, Shukri said, using the Arabic acronym for IS.
Arab world's silence was expected and reflects its division over how to proceed in Syria, experts said.
"Cairo has been gradually embracing Moscow's view on Syria, which is diametrically different from Riyadh's," said Hellyer.
"For the Saudis, the main strategic objective remains the fall of Assad's regime a goal irreconcilable with Russian interests," said Karim Bitar, Arab affairs specialist at the Paris-based Institute of International and Strategic Relations.
In contrast, "Egypt's Sisi is more in line with (Russian President Vladimir) Putin's policy that seeks to revive the camp of authoritarian nationalism in the face of Islamist movements."
Even if Saudi Arabia wants the fall of the regime in Damascus it has a "confusing" foreign policy as seen from its intervention in Yemen, said Yezid Sayegh, Syria expert at the Carnegie Middle East Center.
"It does not know what to do or how to do it. The Saudis have reached a limit" when it comes to Syria, he said.