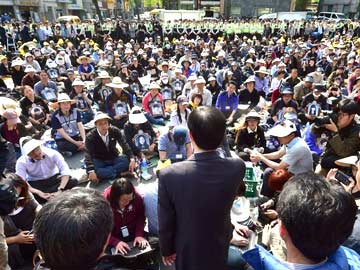 Seoul:
The toll rose to 273 Friday in one of South Korea's deadliest maritime disasters as divers searched the sunken Sewol ferry amid slower tidal currents.
At least 273 people have been confirmed dead, and 31 were still missing till Friday morning, Xinhua reported. No survivor has been reported since 172 people were saved from the ship and sea April 16.
The 6,825-tonne Sewol ferry capsized and sank off the country's southwestern coast 24 days ago. Two-thirds of the 476 passengers were students and teachers from Danwon High School in Ansan city.
Koh Myung-seok, spokesman of the pan-government accident response centre, said at a press briefing that four more bodies were recovered from the submerged hull Thursday night, noting divers intensively searched cabins on the fourth and fifth floors of the five-storey vessel where the remaining bodies were believed to be trapped.
The waters off Jindo Island, where the ship sank, have been into the period of neap tide, or the least difference between high and low tides, Koh said, noting diving conditions had become better.
The area is known for the nation's second-fastest tidal currents.
Divers completed the first-stage search of 64 passenger cabins, expanding their search range to 111 cabins and communal spaces such as restaurants and restrooms.
At least 128 divers will continue to conduct search operations Friday inside the submerged ship.