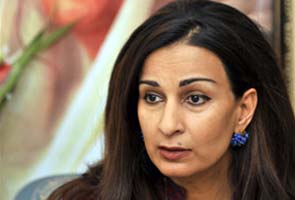 Washington:
Sherry Rehman, Pakistan's envoy to the US, today resigned following the defeat of the Pakistan People's Party in last week's general elections.
Congratulating the new parliament on its election, Ms Rehman sent in her resignation to the caretaker Prime Minister Mir Hazar Khan Khoso, Pakistan Embassy spokesman Nadeem Hotiana said in a message posted on Twitter.
Another message on Twitter quoted Ms Rehman as saying: "It is time a new envoy comes in as quickly as possible so that there is no gap in the relationship."
The 52-year-old diplomat, a close aide of Pakistan President Asif Ali Zardari, was appointed to the post by the PPP-led government in 2011.
She replaced Husain Haqqani who was forced to quit over a controversy regarding a mysterious memo seeking American help to stave off a possible military coup in Pakistan following the killing of Osama bin Laden in a US military raid.
A senior leader of the PPP and a former aide to slain party chief Benazir Bhutto, Ms Rehman had also served as Information Minister in the PPP-led government.
Several other envoys appointed by the outgoing government are expected to quit following the PML-N's victory in the May 11 polls, which marked the first democratic transition of power in Pakistan's history.