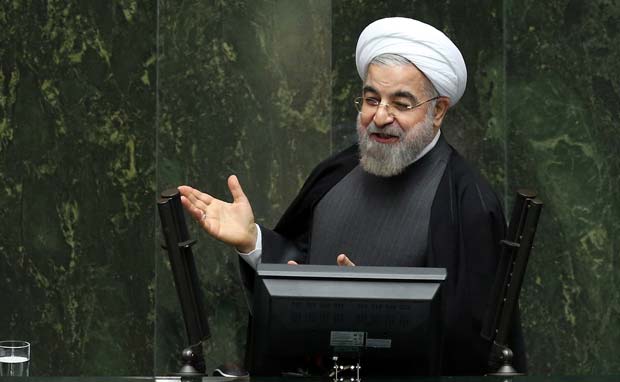 tehran:
Iran's military is purely for defence and should not be seen as a threat in the Middle East, President Hassan Rouhani said today amid rising tension with Saudi Arabia.
With a Saudi-led air campaign against Huthi rebels in Yemen putting Tehran, the region's dominant Shiite power, at odds with its Sunni rival Riyadh, Russia this week moved to supply missiles to Iran.
Saudi Arabia accuses Iran of arming the Huthis, Yemen's Zaidi Shiite minority which has long complained of marginalisation and has fought several conflicts with central authorities.
The arms allegation is denied by Iran, which has presented a four-point peace plan for Yemen to UN chief Ban Ki-moon, demanding international action to end the "senseless" Saudi-led air strikes.
Rouhani, whose comments came after renewed intense bombing hit Yemen and Al-Qaeda seized more ground in the chaos, said the Islamic republic's military policies are wrongly perceived.
"Our strategy has always been that of a deterrent... not a doctrine of war," he said in a speech at an annual Army Day ceremony in the capital where a new Iranian-made Bavar-373 missile was paraded.
The presence of Iranian navy ships "in the Persian Gulf and the Gulf of Aden is intended to ensure the security of neighbouring countries and maritime traffic," he said.
"The armed forces bring peace to the nation and other peoples of the region," he added.
Russian President Vladimir Putin earlier this week removed the ban on supplying Iran with a more sophisticated S-300 air defence missile system, paving the way to conclude a long-delayed contract.
The move raised alarm that such sales could embolden Tehran in talks with leading world powers about curbing its long-disputed nuclear programme.
However, Iran says the domestically produced Bavar-373 system has similar capabilities to the S-300.
US President Barack Obama on Friday said he was not shocked that Russia had lifted its restrictions.
"This is a sale that was slated to happen in 2009, when I first met with then-prime minister Putin. They actually stopped the sale, paused or suspended the sale, at our request," Obama added.
"And I'm frankly surprised that it held this long, given that they were not prohibited by sanctions from selling these defensive weapons."