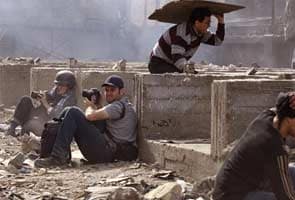 Cairo:
Many journalists covering the protests in Egypt were detained and attacked on Thursday, and human rights groups were also a target, in what appeared to be an escalating effort to block reports on the violence.
The Egyptian security forces were rounding up workers for human rights groups as well as foreign journalists, witnesses in Cairo said. Security police raided the Hisham Mubarak Law Center, where many non-governmental organizations operate. They ordered people there to lie on the floor and disabled their mobile phones. Two people were being interrogated. The state news agency Thursday has asked foreign press to evacuate all the hotels near Tahrir Square.
As the NDTV crew reached the Tahrir Square, also known as the Liberation Square, a mob started gathering around them. In the chaos, it was difficult to fathom who supported President Hosni Mubarak and who opposed him. And when the cameras started rolling, the numbers swelled. Within minutes, the crowd snatched microphones and tapes and smashed the cameras. The protesters also held a knife to our driver and warned the NDTV crew to leave the area as soon as possible "if they want to live".
(NDTV reports from Cairo)
One of the local boys jumped into the NDTV car and helped the crew speed away. Another member was rescued by an armoured personnel carrier as a mob of Mubarak supporters stormed into the hotel. Many other journalists also faced a similar situation of not being able to film around the Tahrir Square. (
Watch
) |
(Attacks on journalists 'unacceptable': India)
The Committee to Protect Journalists was investigating at least 10 cases of reporters being detained on Thursday. The government told the journalists that they were not being arrested but rather taken into "protective custody," according to the group.
The United States protested the actions against reporters.
(Violation of international norms, says Hillary Clinton)
"There is a concerted campaign to intimidate international journalists in Cairo and interfere with their reporting," Philip J. Crowley, assistant secretary of state for public affairs, said Thursday morning in a statement via Twitter. "We condemn such actions."
The attacks on journalists started almost as soon as violent clashes began on Wednesday in the central Tahrir Square, as orchestrated waves of pro-government forces swept in, using rocks, bats, and knives and Molotov cocktails against the anti-government protesters.
The cellphone service provider Vodafone acknowledged that the government had invoked emergency powers to force it to send out text messages.
Some of the messages appeared to include calls for people to turn out in support of the government, and were sent ahead of the violent clashes. Images of the messages were posted online and first reported by The Guardian.
"To every mother-father-sister-brother, to every honest citizen preserve this country as the nation is forever," read one message.
With Internet services largely restored, many Egyptian bloggers began posting in earnest.
Egyptian state television also began showing images from Tahrir Square for the first time on Wednesday as violence escalated, focusing on supporters of Mr. Mubarak and scenes of pitched street battles. It appeared likely that both moves by the government were directed at painting a violent image of the antigovernment protesters.
"It's clearly a media strategy that's being implemented," Tala Dowlatshahi, a spokeswoman for Reporters Without Borders. "State-controlled television has been broadcasting soap operas and cooking shows for the past few days until today."
The government has sought to control information since large-scale protests against Mr. Mubarak and his subordinates began last month, but overt harassment has been scattered and attempts to control the gripping images and narratives from Cairo have mostly failed. Wednesday's attacks appeared to represent the most coordinated and widespread effort to stop foreign reporters from doing their jobs.
"The Egyptian government is employing a strategy of eliminating witnesses to their actions" in a "series of deliberate attacks on journalists," Mohamed Abdel Dayem of the Committee to Protect Journalists, said on Wednesday.
Reporters Without Borders said it had received dozens of confirmed reports of violence against local and international journalists in Egypt on Wednesday. Tala Dowlatshahi, a spokeswoman for the group, said to "expect more foreign journalists to be targeted."