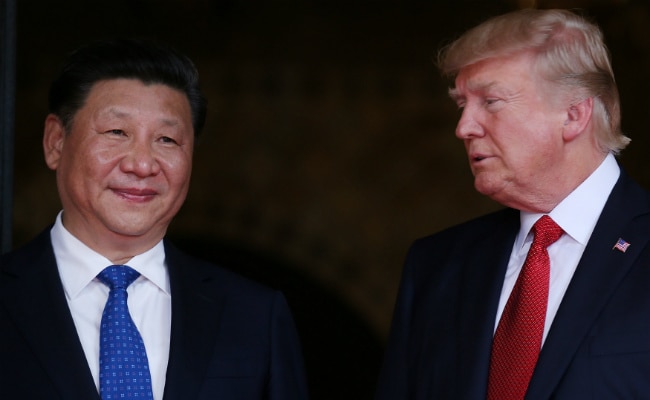 Washington:
President Donald Trump on Tuesday praised the "kind words" from Chinese leader Xi Jinping and pledged "great progress" in the looming trade dispute between the world's largest economies.
Still, the White House also admonished China to take concrete action on US complaints about unfair trade practices.
Xi earlier Tuesday pledged to open Chinese markets and lower tariffs, remarks that helped global investors breathe a sigh of relief after weeks in which Beijing and Washington appeared on a collision course.
"Very thankful for President Xi of China's kind words on tarrifs [sic] and automobile barriers... also, his enlightenment on intellectual property and technology transfers," Trump said on Twitter.
"We will make great progress together!" Trump predicted, hailing the speech in which Xi renewed a commitment to lower car import tariffs.
But following Trump's tweet the White House made clear it wants to see changes enacted in China.
"We're encouraged by the words but we want to see concrete steps and concrete action," Press Secretary Sarah Sanders said.
"We want to see more than just the rhetoric," she added, and until that happens the planned tariffs will enter into force.
The fresh sign of detente could further soothe fears that the tit-for-tat exchange of threats of new punitive tariffs on agricultural and manufactured goods could boil over into an all-out trade war, damaging the global economy.
Trump has signed off on duties on $50 billion of Chinese imports which are due to take effect later this year, and he threatened to retaliate with tariffs on another $100 billion in Chinese goods, after Beijing said it would target US agricultural goods among other items.
US officials have long accused China of forcing US companies to hand over technology, or stealing it outright, and of spurring massive industrial overcapacity, among other complaints.
Xi 'Underdelivers'
White House officials in recent days offered mixed messages, suggesting in some cases the tariff threats were mostly a negotiating tactic, while demanding China reduce its trade surplus with the US.
In his address, Xi told an economic forum on the southern island of Hainan that China "does not seek a trade surplus."
Promising a "new phase of opening up," Xi said China would "considerably lower" tariffs on cars and other products this year, take measures to liberalize automobile investment, and protect intellectual property -- all areas that have been high on the list of demands by Washington.
"Economic globalization is an irreversible trend of the time," Xi told the Boao Forum for Asia. "The door of China's opening up will not close, it will only open wider and wider."
But analysts and veteran China watchers were less upbeat about Xi's remarks than Trump, pointing out that there was nothing new in the statement and the Chinese leader had previously promised reforms of the auto sector.
Evan Medeiros, former US National Security Council director for Asia, noted it was "not a new commitment and will not dramatically change the fortunes of US car companies."
"Xi's bland and generic commitments on IP protection fell short of what would have been a true gamechanger."
The Eurasia Group agreed the speech was "not a game-changer" and said it "underdelivers after all the hype from Beijing."
"Xi proposed actions which were previously promised and none address the reciprocity issues in US-China relations," Eurasia Group said in a briefing note.
But with Trump and his supporters happy to claim a victory for a browbeating strategy, the flurry of pronouncements could open the door to talks.
Earlier this week Larry Kudlow, Trump's top economic advisor, said limited interactions already had taken place but no serious discussions to avoid tariffs.
(Except for the headline, this story has not been edited by NDTV staff and is published from a syndicated feed.)