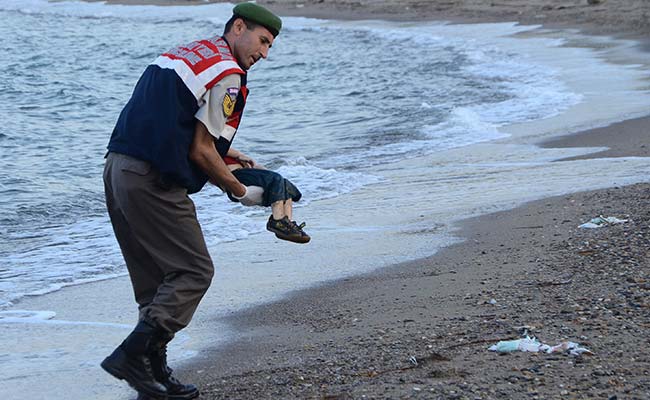 Ankara:
The photographer who shot the heart-wrenching picture showing a Syrian toddler's lifeless body washed ashore Turkey's Aegean coast said she was "petrified", the media reported.
"At that moment, when I saw the three-year-old Aylan Kurdi, I was petrified," said Nilufer Demir, a photo-journalist covering the migrant crisis in Aegean resort town of Bodrum for Turkey's Dogan News Agency (DHA), adding that she had no other option then to do her duty as a journalist.
Demir clicked the picture on Wednesday at around 6:00 a.m., on Bodrum's Akyarlar coast of Mugla province, where bodies of migrants washed ashore after two inflatable boats sank, Hurriyet news agency reported.
"Three-year-old Aylan Kurdi was lying lifeless face down in the surf, in his red t-shirt and dark blue shorts folded to his waist. The only thing I could do was to make his outcry heard." It was that moment, Demir added, that she took the shot.
Demir explained how she noticed another toddler, Aylan Kurdi's brother Galip on the ground, without a life-jacket, just like the other migrants.
"Galip was lying 100 metres away from his brother. I approached him this time. I noticed they didn't have any life-jackets on them, any arm floats, anything to help them to float in the water. This image shows how dramatic the incident was," added the reporter.
She further added that this issue was beyond the borders of Turkey and has become an international problem, as Bodrum district has turned into a transition point for refugees attempting to flee to Europe.
Meanwhile, Turkish security forces in Mugla detained four people suspected of human trafficking resulting in the death of 12 people on Thursday.
Sources from the smuggling and organised crime police department said four Syrian citizens had been apprehended for taking refugees from the Turkish coast to Greek islands.
In the first five months of 2015, over 42,000 people arrived by sea in Greece, most of them refugees, according to the UN Refugee Agency.