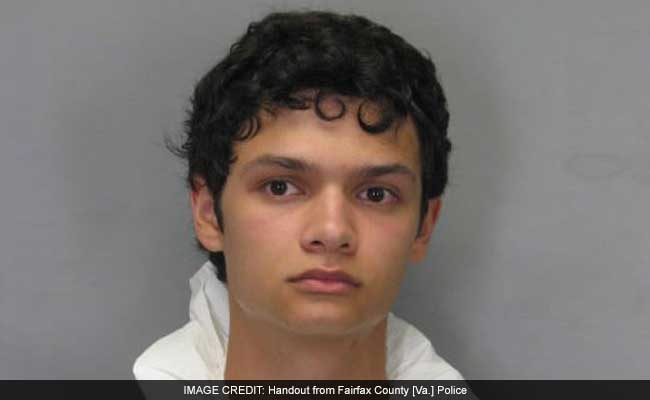 As caterer Tyonne Johns cleared off party tables of plates and cups, making her way over to folding chairs, a dispute began at the park venue.
Kempton A. Bonds, 19, said the chairs belonged to the Fairfax County Park Authority, where he worked, according to police. Johns said they were hers.
Tensions had been simmering all Saturday night between Bonds and the guests at a wedding reception catered by Johns at a hall in the park, and when bickering over the chairs started, as police described events Sunday, Bonds lashed out.
In little time, a trivial matter escalated into the stabbing death of a woman who many who knew her say was an up-and-coming caterer and chef.
Bonds, of Clifton, Maryland, has been charged with second-degree murder, accused of stabbing to death Johns, the 35-year-old owner of the Chef Tyonne catering company after their argument in Ellanor Lawrence Park in Chantilly, Fairfax County police said.
As Johns packed up folding chairs, witnesses say, Bonds said they were park property, police spokeswoman Monica Meeks said. Within minutes of that argument, police said, Bonds pulled out a pocketknife and stabbed Johns in the upper body.
Police arrived at the park about 10:50 p.m. and found Johns, of the District of Columbia, stabbed. She died at a hospital.
Earlier Saturday evening, county officials said, Bonds had placed a call to police after becoming aggravated by the behavior of the wedding guests.
Seymone Spence, a bartender working at the reception with the Chef Tyonne company and also Johns' good friend, said Bonds cut off electrical power at the junction box during the reception, abruptly halting the music and festivities for a crowd of 80. The bride and groom had yet to share their first dance.
"The young lady who was facilitating the cutting of the cake said 'I don't have a mic. The kid cut off the power, so if you all can hear me, we're about to cut the cake,' " Spence said.
Bonds called police at 9:24 p.m. to file a complaint of disorderly conduct and excessive noise, authorities said at a Sunday afternoon news conference.
But when police arrived, they said the incident - logged as a domestic dispute - had been resolved. The park authority said that because the wedding had started late in the day, the guests were allowed to stay on the premises later than the usual closing.
The argument over the chairs erupted later, police said.
Calls to relatives of Bonds seeking an interview Sunday were not returned.
He is being held without bond and has been fired by the park authority pending the outcome of the investigation.
Bonds has worked there since 2015. As facilities attendant, he handled events such as weddings, birthday parties and baby showers. The park authority said it had never received a complaint about his conduct.
"We are shocked," said Judy Pedersen, spokeswoman for the park authority. "It's a tragic event. We believe that our many employees . . . are law abiding, honest, hard-working people. This is just shocking, but we're anxious to hear all of the facts."
Pedersen expressed condolences to Johns's family.
Throughout Saturday night, Spence said, Bonds's bizarre conduct was noticeable to guests.
"He was very, very pensive and tight," she said. "He never once cracked a smile - not once. It was scary."
A friend, Nick Martin, 19, said Bonds attends Northern Virginia Community College. He planned to transfer to Virginia Commonwealth University this fall and major in communications, Martin said of Bonds.
"It's all so surreal," he said. "He's one of my good friends, and it never seemed like he could even hurt a fly. I can't imagine he'd do something like this."
Martin said Bonds called him Saturday while the wedding reception was taking place and said guests were getting upset about the regulations that Bonds said he had to enforce. Bonds mentioned a ban on not allowing decorations to be hung on the walls, Martin said.
Mikaela Robinson, a sous chef for the catering company, was not at Saturday's event but said Sunday that she had fond memories of working alongside Johns.
"She was full of life. Loving and caring," she said. "I was her sous chef, so she was always hard on me because she wanted me to be better than her, but there was no way I would be and never will be."
Johns attended Empowerment Liberation Cathedral in Silver Spring, Maryland. Bishop Allyson Abrams remembered her as a "kindhearted, very loving spirit."
"I just hope that justice will prevail," she said.
Johns's cousin, Brandon Thompson, 30, of Richmond, said Johns was a rising chef who "took the road less traveled." They often laughed, especially reflecting on shared childhood memories.
Spence said she cherished Johns for her dominant personality and enterprising spirit.
And, she said, she served a dazzling last meal: steaming-hot salmon and jerk chicken, complemented by macaroni and cheese and rice pilaf, well-plated and handed out to dozens.
"She's a professional," Spence said. "It wasn't haphazard. Nothing that she did was haphazard. It was all well thought of . . . everything was beautiful."
© 2016 The Washington Post
(This story has not been edited by NDTV staff and is auto-generated from a syndicated feed.)