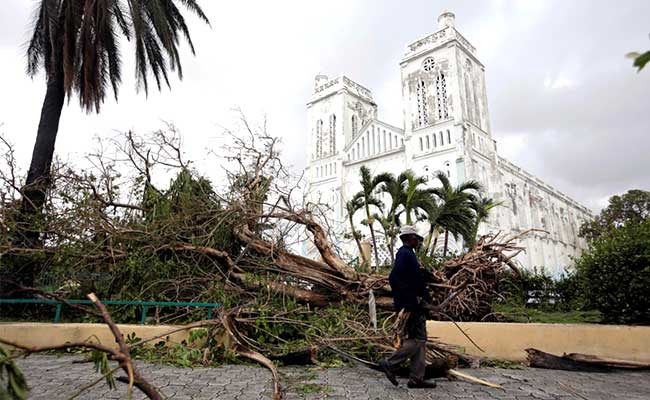 LES CAYES, Haiti:
Huddled in shelters since Hurricane Matthew brought screaming winds through the Haitian port town of Les Cayes, dazed residents emerged on Wednesday to find streets under water and their homes destroyed or damaged.
The cyclone killed at least 25 people on its path through Hispaniola, the Caribbean island that Haiti shares with the Dominican Republic, but authorities are just beginning efforts to assess the full scale of the damage.
Matthew's 145 mile-per-hour (230 kph) winds uprooted trees, billboards and mobile phone towers as the storm's eye passed close to Les Cayes early on Tuesday on Haiti's picturesque southwestern coast, while the surging sea tossed fishing boats from the beach high on to land.
A mother and her two children, and another child, were swept to their deaths in a raging river a few miles from Les Cayes, in what meteorologists say it was the strongest storm to hit Haiti in more than half a century.
"Everybody was affected, there is nowhere to go," said Selio Dorval, 30, trying to fix the roof of his home with a thin sheet of wood, next to a boat lying in the road.
"I'm in the street now, my house is destroyed, I have kids, I have no house," said Dorval who spent the last two nights in a high school being used as a shelter from the storm.
Historians say Les Cayes was destroyed by hurricanes twice in the 18th century, but it bounced back to become an important port exporting coffee and vetiver, an ingredient in perfumes. It is a gateway to nearby Ile-a-Vache, a palm-fringed island Haiti's government wants to develop for international tourism.
Low-lying Ile-a-Vache was in the path of the storm and authorities have not yet been able to communicate with the island to assess the extent of the damage.
Most houses in Les Cayes were left roofless, with many completely inhabitable.
With the main road from capital Port-Au-Prince impassable after a swollen river destroyed a bridge and helicopters not taking off because of cloud cover and rain, outside aid has not begun to reach Les Cayes and other coast towns that took the brunt of Matthew.
Conditions were grim in the town's public Immaculate Conception Hospital, where patients were stranded in leaky wards and most doctors had not been seen since before the storm. In the maternity ward's theatre stinking buckets of liquid waste hung off beds, apparently there for several days.
Joulentah held her 14-month-old son Jouvensly, who she brought in on Thursday to cure diarrhoea and fever. A doctor had prescribed an IV drip, but there was nobody in the paediatrics ward to administer it.
"I don't have money, I don't know where else to go, he cried for food I have nothing to give him," said Joulentah, who only gave her first name.
© Thomson Reuters 2016
(This story has not been edited by NDTV staff and is auto-generated from a syndicated feed.)