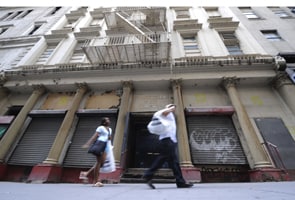 New York:
While a large number of Americans oppose the proposed Muslim community centre and mosque just two blocks away from Ground Zero, the site of the fallen WTC Twin Towers, employees of the strip clubs in the neighbourhood have no problem with it.
"I don't know what the big deal is," said Cassandra, a stripper at New York Dolls, as reported by The Wall Street Journal.
"It's freedom of religion, you know?" said Chris, a stripper at Pussycat Lounge, also close by, who lost eight firefighter friends on 9/11.
But she doesn't have particularly strong feelings towards the mosque, The Journal reported. "The people who did it are not going to the mosque. It's all good. You have your synagogues and your churches. And you have a mosque." she said.
The presence of strip clubs and gambling joints in the vicinity, which is a commercial hub in Manhattan, has also punctured holes into the assertion that the area around the World Trade Centre should be treated as "hallowed ground" as suggested by former Republican vice presidential nominee Sarah Palin and others.
Meanwhile, Daisy Khan, co-developer of the Muslim centre along with her husband Imam Feisal Abdul Rauf, described the opposition to the mosque as "anti-Semitism."
"It's not even Islamophobia. It's beyond Islamophobia. It's hate of Muslims," she said on ABC's This Week.
Both anti and pro mosque demonstrators took to the streets yesterday with the opponents having a larger crowd of around 500 people, blasting songs like Bruce Springsteen's "Born in the USA".
Anti-mosque protesters also held placards with the words 'Sharia' written in blood red letters. The angst against the proposed Muslim community centre near Ground Zero has also led to demonstrations against mosques in other parts of the country.
Polls suggest that the majority of Americans inside and out of New York, both Republican and Democrats, are against such a mosque coming up.
Prominent Republicans like Sarah Palin, Rudy Giuliani, and Newt Gingrich have already spoken out against the mosque as have Democrats like Senate majority leader Harry Reid.
However, Kuwaiti-born Imam Rauf, the developer of the $100 million Muslim community centre, which will include the mosque, insists that it is "a centre for all New Yorkers" and "its purpose is to interweave America's Muslim population into the mainstream society."
Rauf, who is touring the Middle East right now as part of a State Department trip to promote goodwill, told a Bahrain based newspaper that the US constitution was more in tune with Islamic principles than some laws and policies of Muslim nations, the
New York Post
reported.
"I see the (Declaration) of Independence as more compliant with the principles of Islam than what is available in many of the current Muslim countries," he said.