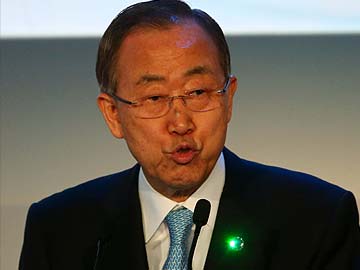 New York:
Lawyers for more than 1,500 victims of Haiti's deadly cholera epidemic said they had served UN Secretary-General Ban Ki-moon with a personal summons to appear in US court.
The lawyers claimed yesterday that Ban was handed the papers as he entered the Asia Society in Manhattan, where he delivered an impassioned call on the international community to stop the war in Syria.
But a UN spokesman denied to AFP that the papers were served, saying the secretary-general's security had intervened and that Ban would not have to appear in court in Brooklyn.
Stanley Alpert, a lawyer for the plaintiffs, accused Ban and the United Nations of "ducking service in these lawsuits for months."
A lawsuit was filed against the United Nations in March in US federal court in Brooklyn, demanding the UN take responsibility, compensate the victims and provide critical sanitation.
It claims that more than 8,000 people were killed and around 700,000 fell ill since the epidemic broke out in 2010.
There had been no cholera in Haiti for at least 150 years until it was allegedly introduced by Nepalese UN peacekeepers sent there in the wake of the devastating January 2010 earthquake.
The source of the cholera epidemic was traced to a river that runs next to a UN camp in the central town of Mirebalais, where Nepalese troops had been based.
The strain of cholera is the same as one endemic in Nepal.
But the United Nations refuses to recognise responsibility for the outbreak, arguing it is impossible to determine its origin and noting it is immune from prosecution in the United States.
In October, five Haitian victims of the epidemic filed a first lawsuit against the United Nations in US court in New York.
The US State Department said the United Nations and its mission in Haiti were immune from the suit.
The cholera epidemic has yet to be brought under control.
In 2013 alone, some 65,000 cases and 55 deaths were recorded, in addition to cases in neighbouring countries including the Dominican Republic, Cuba and most recently, Mexico.
"They now must face a US federal judge and explain why they feel they are immune from fulfilling that agreed-upon responsibility," said lawyer Tim Howard yesterday.