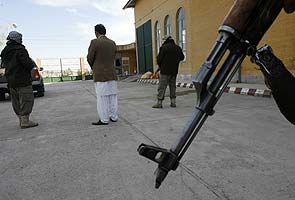 Kabul:
Afghan construction magnate Haji Asadullah Ghaznawi was dragged from his office with a gun to his head and locked up in a slaughterhouse for almost three weeks.
Ghaznawi was later shocked to discover someone had leaked details of his bank account to the kidnap gang who pulled up in a car in broad daylight in Kabul a year ago and abducted him.
Violent criminals who gain access to confidential information about Afghan millionaires like Ghaznawi have raised alarming questions about the dangers of doing business in one of the world's poorest and most corrupt countries.
"Eight days before I was kidnapped a business partner added one million dollars to my bank account," Ghaznawi told Reuters from his luxurious office in the Afghan capital.
"The kidnappers told me that I had one million dollars in my bank. How could they know this?"
The leaks, some businessmen allege, are coming from the very people who are supposed to be protecting Afghans and helping them prosper -- intelligence officials, police and bankers.
Safeguarding Afghanistan's economy is just as important for the troubled South Asian nation's stability as containing the Taliban-led insurgency as NATO combat troops withdraw by the end of 2014.
The International Monetary Fund expects economic growth of 11 percent this year. While that might sound impressive, it will inevitably be offset by a sharp cut after 2014 in foreign aid that has long been Afghanistan's lifeline.
Wealthy Afghans fearful of a new civil war or a Taliban push to seize power have already been sending vast sums of money to banks in the Gulf emirate of Dubai and elsewhere, prompting authorities to impose measures to try and stem the flow.
Government officials fear bank account scams and kidnappings could accelerate that process, and potentially bring the fledgling economy to its knees.
Ghaznawi spent 17 days in the basement slaughterhouse, worried about his safety and also troubled that criminals now know exactly how much he is worth. A business partner bought his freedom for $820,000.
It's a problem that has Afghan entrepreneurs so worried many are hiring large teams of armed guards to provide around-the-clock protection.

Connected criminals, weak banks
Afghanistan's banking sector has seen an influx of cash from foreign aid and steady growth in industry and construction, but it remains weak and open to exploitation by criminals.
Critics say regulation and oversight is poor despite concerted efforts to rebuild the sector. The most alarming example was the looting of $935 million from politically well-connected Kabulbank, once Afghanistan's largest private lender, in a loans scam uncovered in 2010.
Businessmen and top officials from the Afghan Chamber of Commerce and Industry (ACCI) say bank employees are leaking account balances to sophisticated gangs who arrange kidnappings.
"These kidnap gangs have some good connections, they work as teams, they know who the rich people are," said Shir Baz Kaminzada, president of the Afghan Industrial Union, who runs a lucrative printing and packaging firm and travels in a bullet-proof car.
"Our banks aren't so secure and some bank people, we suspect they're providing information to criminals."
Some businessmen go further and allege rogue officials from Afghanistan's intelligence agency, the National Directorate of Security (NDS), are obtaining the financial records of high-rollers. The NDS did not respond to interview requests.
Kidnapping is a lucrative business, with ransoms often in excess of $1 million. Many cases go unreported and most are unsolved.
Corruption and lawlessness are endemic, and some businessmen suspect some police officials could be working with the gangs and sharing ransom payments, or at least turning a blind eye.
"Among our members, we have many kidnap victims and the problem is mostly solved by paying the ransom without involving police," said Ahmad Tawfiq Dawari, a deputy head at the ACCI.
"They hire 10-15 private guards themselves and it's expensive. When security forces do nothing to stop the kidnappers, how can we trust them to protect us?"
Reuters spoke to several kidnap victims, but most were too scared to provide details about their ordeals.
The gangs are ruthless. When they can't get their hands on the businessmen themselves, they grab their loved ones instead.
In some cases it has been done with frightening ease. One gang simply showed up at a wedding held by a rich family and snatched a three-year-old child named Milad, who was held for 29 days. His father is a well-to-do construction engineer.
"We told them that we had no money, but they warned us if we don't pay they will cut off his hands, legs and also blind him," said Abdul Kadir, the boy's grandfather. The ransom was paid, and the gang later arrested and paraded before the media.
"We hope the government punishes them seriously, so they should remember the pain they've given me," Kadir said.
"Lack of hope"
The financial schemes and kidnappings will make it even more difficult for President Hamid Karzai's government to convince foreigners to invest in Afghanistan, which has been plagued by conflict for decades.
That task is gaining urgency as 2014 approaches. Many Afghans fear Western countries will withdraw their financial support along with troops.
ACCI officials estimate that until recently, as much as $10 million was being transferred outside Afghanistan each day. The central bank expects a record flight of cash this year of some $8 billion -- almost twice the size of the 2011 state budget.
"Without a doubt, these kidnappings will impact investment in Afghanistan," said Khan Jan Alokozai, a deputy chairman with the ACCI. "There's a lack of hope for the future and a belief Afghanistan will collapse in 2014."
More than 100 of Afghanistan's top businessmen raised concerns about alleged leaks of their bank balances with Karzai a month ago. Alokozai said Karzai was "very angry" and demanded it be stopped, telling the businessmen the NDS was not permitted to seek private information about individuals' bank accounts.
State agencies seeking access to customers' bank information can only obtain it through the central bank and "in no other circumstances", its governor, Noorullah Delawari, told Reuters.
Businessmen place the blame squarely on law enforcement agencies. The chief of the Kabul Criminal Investigation, Mohammad Zahir, insists police are cracking down on the gangs and says the leaks most likely came from employees or relatives.
"These kidnappers had private prisons where they tortured victims if they refused to pay, so we started a fight against them and we've brought this problem to its lowest point," Zahir told Reuters, reeling off the names of prominent people rescued and kidnapping kingpins who have been arrested.
"The government supports us and we're not afraid of anyone."
Sitting with an associate in his Kabul office, Ghaznawi gets little comfort from such talk and believes businessmen have a bleak future in Afghanistan. In the back of his mind is a constant fear that the kidnappers will be back.
"I wanted to shut down my business but my partners convinced me to continue," he said. "Other businessmen know what I went through, why would they put their money and lives at risk?"
© Thomson Reuters 2012